"Black Desert Online" Launches Crossover Event With "Berserk"
Kakao Games and Pearl Abyss announced today they have collaborated with Kentaru Muira (Studio Gaga) for a Berserk/Black Desert Online crossover. The event will take place starting today, November 20th, and run until December 6th. For that time you'll be able to experience the grim fantasy of Berserk with new quests, bosses, and items in the game. You can read more about it below as this is basically a dream event for anyone into both the series and the game. Best of luck to all of you getting those items in time.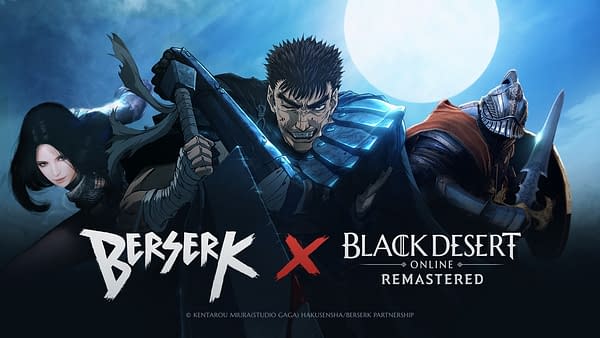 Players can immediately start a questline that will see them traversing the world of Black Desert Online on Berserk themed quests. The quest-line culminates in a confrontation with a truly legendary foe, the fierce demon Nosferatu Zodd.

Players will face 'Zodd' near the Hexe Marie Sanctuary, an eerie graveyard overrun with all manner of undead creatures. It seems that players might be able to find common cause with an especially legendary knight…

In addition to the questline and bosses, new outfits and skins for the fairy companion have been added to the Pearl Shop, allowing adventurers to evoke the iconic 'Berserker Armor' for male classes. For players that are looking for something more elegant, a new outfit styled after Griffith, Guts' archnemesis, will be available for the female character classes. There's also a new skin for the player's fairy character that gives them a look inspired by Puck, the trusty companion of Guts, from the popular anime Berserk.