One of the biggest mysteries surrounding Jump Force after E3 is what the hell are the two characters from Death Note doing just watching the fight? A lot of people were wondering just what Light Yagami and Ryuk were doing up on that rooftop, and as it turns out, there may be a bit more to the game's story than just worlds colliding. Game Informer got a quick interview with Bandai Namco producer Koji Nakajima at E3 who shed a little light on what may be going on up on that roof.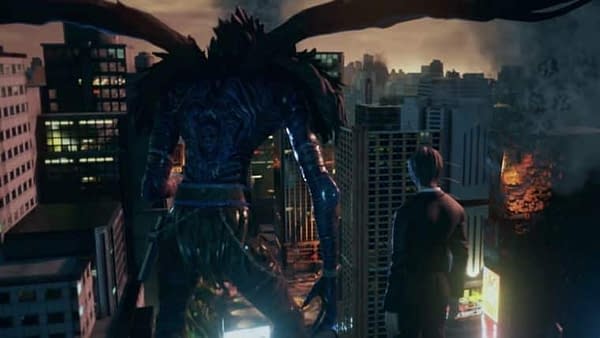 Nakajima pointed out that they are there for story reasons. "Right, not everyone is suited to fighting, but might have a part in the story. The question of how all these universes came to ours will involve characters who aren't necessarily selectable characters who are used to hitting each other." This is probably bad news for Death Note fans that hoped Light would act as Ryuk's Pokémon trainer in battle.
So while the characters may not be playable as fighters inside the game, they are apparently crucial to what's happening as far as the story goes. The more we learn about the game, the more intriguing the rabbit hole seems to become.
Enjoyed this article? Share it!