Kenny Omega & Rahul Kohli Score Like A Dragon: Ishin Cameos
Like A Dragon: Ishin added a couple of celebrity cameos to the game as players have abilities featuring Kenny Omega & Rahul Kohli.
---
SEGA revealed two new additions to Like A Dragon: Ishin as both Kenny Omega and Rahul Kohli are featured in the game as special abilities. The two make appearances in the game as samurai soldiers in the form of Trooper Cards, which are used in the game with special powers revolving around combat and abilities to help you out in a situation in a hurry. They grant you temporary but devastating power-ups and special abilities when activated, some of which feature characters from the Yakuza and Like a Dragon series, but these are two of six special guest cards that have been added to the mix. We got a pair of videos talking about them and quotes from everyone involved with these additions below.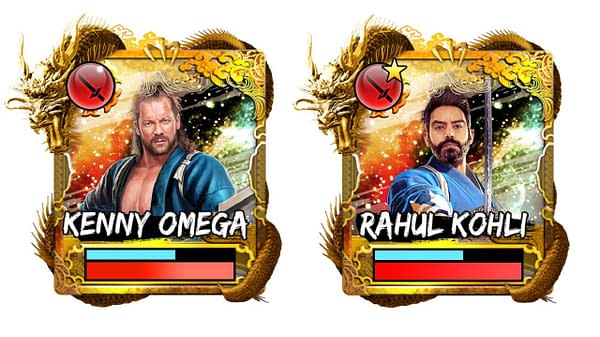 "I've been a fan of the Like a Dragon series for years, and to be forever immortalized in Like a Dragon: Ishin!, the newest entry in one of the most iconic game franchise of all time, is surreal," says wrestling icon Kenny Omega. "I'm so excited about my Trooper Card, and I think players are going to love the artwork and attack animation – and the damage I can deal to enemies!"
"As a huge fan of Ryu Ga Gotoku Studio's games, I was honored to be asked to be a guest for the Like a Dragon: Ishin! Trooper Cards. As someone who is emotionally invested in the Like a Dragon story, I'm nervously excited to take on this mantle of being a small part of Ryoma's journey," says Rahul Kohli. "The close relationship that SEGA and Ryu Ga Gotoku Studio have with their fan community, has been really exciting to see manifest in these cards. I'm very honoured to not only be a part of the community, but to also be a part of the series."
"Designing Trooper Cards for Kenny and Rahul, who are passionate fans of the Like a Dragon series, has been a really fun, fulfilling experience. We worked with each of them individually to create their unique, personalized card, allowing them to let their creativity run wild. We loved the results, and we think players will too," says Like a Dragon: Ishin! Chief Producer Hiroyuki Sakamoto.