Korn Debuted A New Music Video For World Of Tanks Blitz
Wargaming and the band Korn have partnered up to release a brand new music video for World of Tanks Blitz today. The band released a brand new music video for the song "Finally Free" that you can check out below featuring them in a desert with a bunch of exploded tanks and one man fighting for survival. The video comes in time for the release of their next album called The Nothing, as well as the brand new Halloween mode coming to the game called Burning Games. You can read about the games and this cool little pairing below as the event will run from October 16th-24th.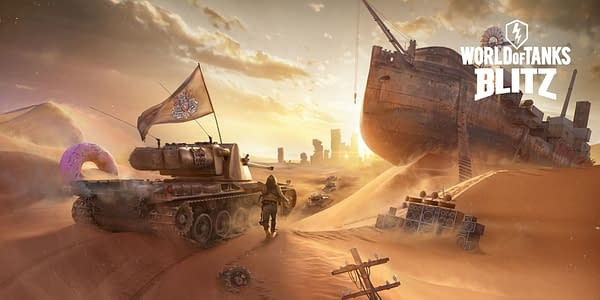 "Wargaming is no stranger to musical collaborations, having teamed up with Iron Maiden, Swedish metallers Sabaton, and punk rock outfit, The Offspring, for previous projects," said Andrey Ryabovol, Product Director of World of Tanks Blitz. "Korn is the perfect partner for our Halloween event, and we can't wait for rock fans and World of Tanks Blitz players to experience this exciting collaboration."

"I really like World of Tanks Blitz. It's true to the era, there are a lot of great tanks in there, and you don't just jump in and start shooting," said Jonathan Davis, lead vocals, Korn. "I think there is a connection between rock and video games because video games are intense and rock 'n' roll music is intense. It seems like they have always gone hand in hand."

The music video for 'Finally Free' tells the story of Captain, a die-hard Korn fan (and a known character in the World of Tanks Blitz universe) who's doing all he can to get to Korn's live performance at the 'Burning Games'. The problem is a crew of wasteland raiders who do all they can to keep him from his goal. Will he make it to the front row of the Korn show in time? The Halloween extravaganza will also include The Way of the Raider, a 60-stage event. Tankers will be able to get Credits, Free XP, days of Premium Account, several camos, a сustom player profile, and two new post-apocalyptic vehicles: The Tier V Spike and the Tier VII Annihilator. Both tanks are featured in the new video from Korn. All tankers who complete all 60 stages will be able to get their hands on the unique animated "Radioactive Glow" camo. The Way of the Raider runs from October 16th through October 31st, and is available to all vehicles Tier V and above.