Marvel Strike Force Gets a New X-Men Patch With Three New Members
FoxNext Games announced today that Marvel Strike Force will be getting a new X-Men patch that will bring in Colossus, Psylocke, and Dark Phoenix. The patch won't be making any major changes to gameplay beyond maybe some bug fixes or anything happening in the Alliance War, the main focus will be adding in these three new characters for you to work with in order to win matches and score prizes in the game. We have all of their bios from the devs here along with some pictures of them and how they'll look in the game. Technically you'll be getting Psylocke first whenever the patch goes into effect, as they have yet to announce a date it will be added to Marvel Strike Force, with the remaining two X-Men to come at a later date.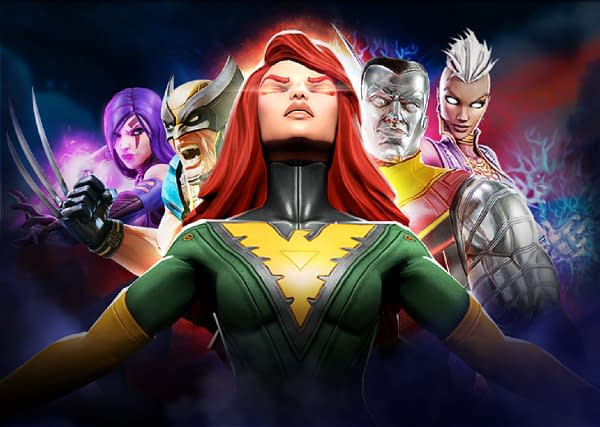 First up is Psylocke, the psionic ninja whose mind is her ultimate weapon. Players that add Psylocke to their squads will be able to bring enemies to their knees with her arsenal of psychic powers including telekinetic blasts and illusions, foresight and her deadly psionic blade. Additionally, players can turn negative effects against their enemies and pierce enemy armor with Psylocke.

Straight from Mother Russia comes the steely strongman, Colossus! With superhuman strength, stamina, durability in his organic steel armoured form, Colossus focuses on hand-to-hand combat. With an iron will and body, Colossus stacks buffs, increases ally defenses, and gains death proof, becoming a formidable shield for his allies.

Following Psylocke and Colossus is Dark Phoenix, who will join the mutant crew to crush enemies by utilizing a devastating combo of telepathy and telekinesis. With the power of the Phoenix Force, she's able to fly at supersonic speeds, rearrange the molecular structure of matter, and blast enemies with cosmic energy. Players will start their battles as Phoenix and rise as Dark Phoenix once they run out of health. As Dark Phoenix, S.T.R.I.K.E. agents can steal health from enemies and incinerate anything that stands against their squad!