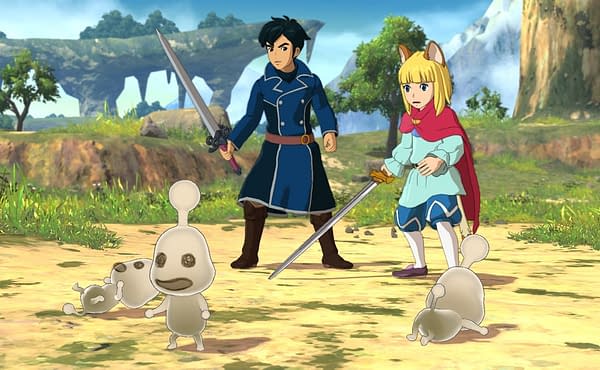 Bandai Namco has released a brand-new trailer for their upcoming JRPG Ni No Kuni II: Revenant Kingdom. Level-5's new game looks pretty fantastic in this new video, which showcases 15 minutes of gameplay, which shows us the very beginning of the game including Evan's first meeting with Roland and their escape from the palace of Din Dong Dell. While we haven't gotten a public demo or a beta for Ni No Kuni yet, seeing the first 15 minutes of the game in action can usually give you a good feel for how the game will play.
We even get the opening cinematic sequence which runs us through the background information. So if you didn't play the first Ni No Kuni, you'll be able to get up to speed relatively quick with this trailer.
As you might imagine, the game really does look gorgeous. However, the video only has a 720p resolution. That opening cinematic alone is a work of art with some incredible textures and details. Then we get dropped into the game itself, which has a pretty signature animation style.
Ni no Kuni II: Revenant Kingdom will release for PS4 and PC on March 23rd. You can check out the new trailer below.
Enjoyed this article? Share it!