Nintendo Adds Three 3DS Titles to the Nintendo Selects Library
Nintendo announced this morning that three 3DS titles would be added to the Nintendo Selects library starting on February 4th. Those three games will be Super Mario Maker for Nintendo 3DS, The Legend of Zelda: Majora's Mask 3D and Star Fox 64 3D. If you're not familiar with Nintendo Selects, it's basically a chance to get a title on the 3DS for only $20. Considering the popularity of all three games, and the fact that all of them together cost the same as one current 3DS title, it's basically a steal. (Yeah, we know, Mario Maker isn't the best on 3DS. But until we get a Switch version, it's the best we're getting.) Here are the company's official descriptions of all three games as they'll be released three weeks from today: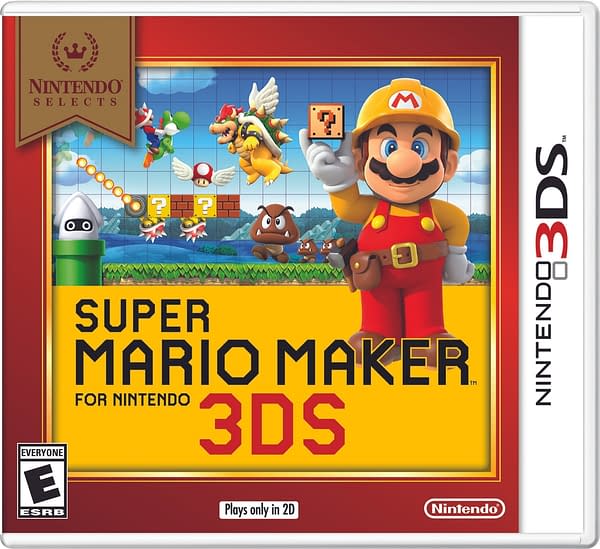 In the Super Mario Maker for Nintendo 3DS game, build, play and share your own side-scrolling Super Mario levels using a wide variety of tools. Want to make your cannons shoot coins or have Bowser fly? With the intuitive touch-screen controls of the Nintendo 3DS family of systems, creating levels is easy and fun. Plus, you can take on 100 built-in courses as you tackle the Super Mario Challenge.

The Legend of Zelda: Majora's Mask 3D game brings Link's classic adventure to Nintendo 3DS. This remastered and enhanced version features a cast of memorable characters, unforgettable gameplay and a dark and mysterious story. With control of time itself, Link must save the world of Termina from destruction by helping citizens, battling bosses and solving challenging puzzles.

Join ace pilot Fox McCloud in the Star Fox 64 3D game, an action-packed space shooter that puts you in the control of the classic Arwing ship as you blast, warp and barrel roll across space. Each mission in the game takes you through a different planet of the Lylat system as you face off against enemies, collect power-ups and fight powerful bosses on the way to the final battle against the evil Dr. Andross.