When the Super NES Classic Edition was announced, you had to know that a version of the Super Famicom was on the way. Details were released in Japan shortly after the other system that the Classic Mini: Super Famicom would be coming on October 5. Here's a picture of the much more cute box their system will come in.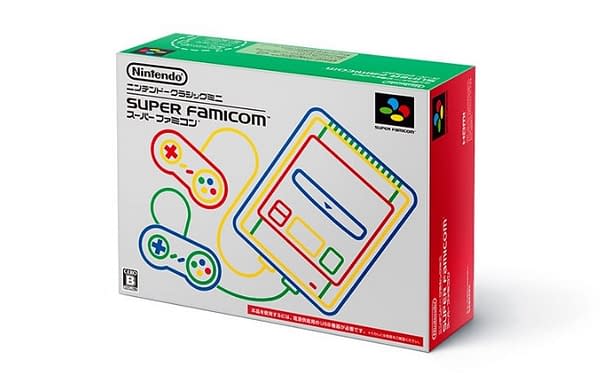 Much like the SNES version, you're only getting 21 games with a price hike of ¥8,000 (roughly $72). Though much like the NES/Famicom editions, you'll notice a slight change in the games available. First, they're getting Super Soccer (which was a popular sports game at the time in Japan but didn't catch on well in North America), Panel de Pon (which is Tetris Attack, an actual puzzle game, which we didn't get), they're getting Fire Emblem: Mystery of the Emblem instead of Earthbound (with no mention of Mother 1 or 2).
They're also getting the regular Super Street Fighter II, one less Kirby game, no Castlevania titles, and no Punch-Out. So it feels like the Super Famicom version is just as lacking in content as the Super NES version. Below is the complete list of titles that will be available on the system in October.

Contra III: The Alien Wars
Donkey Kong Country
F-ZERO
Final Fantasy VI
Fire Emblem: Mystery of the Emblem
Kirby Super Star
The Legend of the Mystical Ninja
The Legend of Zelda: A Link to the Past
Mega Man X
Panel de Pon
Secret of Mana
Star Fox
Star Fox 2
Super Ghouls 'n Ghosts
Super Mario Kart
Super Mario RPG
Super Mario World
Super Metroid
Super Soccer
Super Street Fighter II
Yoshi's Island
Enjoyed this article? Share it!