North Star Military Figures Set to Distribute Wargames Atlantic Miniatures
Distribution deals aren't necessarilly the most exciting news, but after seeing the multi-part plastic miniature kits that Wargames Atlantic is rolling out, I found the need to share! The price point on these figures is fantastic, and I absolutely love these sculpts!
North Star Military Figures, the folks behind the fantastic multi-part minis for Frostgrave, will be handling distribution for Wargames Atlantic new plastic miniatures!
……
NORTH STAR MILITARY FIGURES ANNOUNCES EXCLUSIVE UK DISTRIBUTION AGREEMENT WITH WARGAMES ATLANTIC
April 19, 2019
Nottingham, UK – April 19, 2019. North Star Military Figures has entered into an agreement with Wargames Atlantic LLC to exclusively distribute the manufacturer's plastic figure sets in the United Kingdom. Wargames Atlantic is a new manufacturer of 28mm hard plastic sets for wargamers and painters. Their first sets Classic Fantasy Skeleton Infantry and Death Fields Raumjäger Infantry will release in May with Dark Age Irish coming this summer. There are several more science fiction, fantasy, and historical sets in development.
Wargames Atlantic will be fulfilling direct customer orders taken on their website from a distribution center in the UK, but all trade orders should be directed to North Star.
"We are looking forward to adding Wargames Atlantic's plastic miniatures to the products we stock," said Nick Eyre, Managing Director for North Star. "We're always on the look out for great products to add to our catalogue."
"We're excited to work with the team at North Star and leverage their decades of experience in the UK and European hobby games market," said Hudson Adams, President of Wargames Atlantic. "We hope to provide a steady march of new releases into their warehouse and out to their retailer partners."
This agreement is an excellent opportunity to combine North Star's experience and expertise in distribution while allowing Wargames Atlantic to focus on designing fantastic plastic miniatures. Both companies look forward to bringing new quality products to the wargames community.
About North Star Military Figures
North Star Military Figures is a Nottingham, UK based company supplying the Wargaming hobby. They offer a huge range of models and books, from all the very best manufacturers and publishers, both direct to hobbyists and to hobby stores around the world. They also produce their own figure ranges including the award-winning Frostgrave and Oathmark miniatures. The website is: http://www.northstarfigures.com
About Wargames Atlantic LLC
Wargames Atlantic is a new manufacturer of 28mm hard plastic wargames figures. Monthly releases will be divided between the Death Fields science fiction range, the Classic Fantasy range, and various historical periods starting with Dark Age Irish and Achaemenid Persians. With warehousing in the USA, UK, and China they hope to provide a fast and local delivery to most customers purchasing directly from the website and through partnerships with distributors like North Star to retail traders worldwide. The website is: http://www.wargamesatlantic.com
……
I took some time to look through the upcoming May releases, and I like what's coming out. The Raumjäger Infantry figures have that perfect militaristic dark future vibe for them, and you're looking at 24 miniatures for about $35, perfect for people who want to play sci-fi skirmish games but are burned out on a certain gigantic company.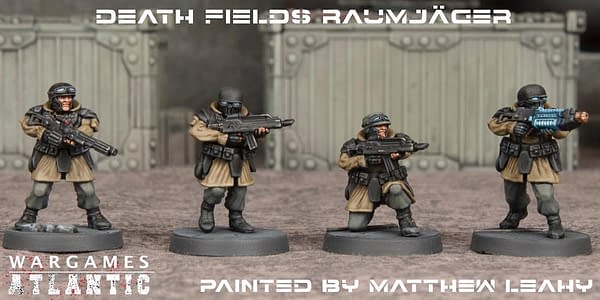 Plus, these figures would work perfectly for skirmish games like Rogue Stars from Osprey Games, or as stand in troops for just about any science fiction RPG.
The Skeleton Infantry packs 32 multi-part minis into a box for about $35, so you're looking at about a buck a pop for some great looking minis!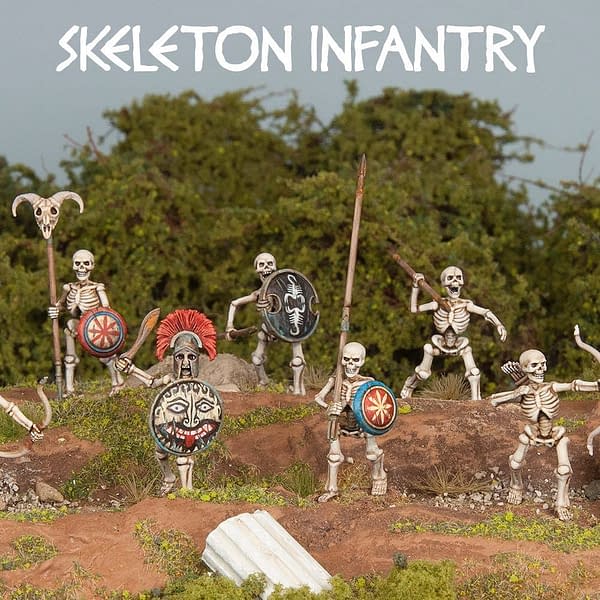 This first release looks like it's centered on Greek skellies, but they can be painted up any old way you want. Plus, skeletons blowing horns is just about my favorite thing ever, and this kit has that going for it!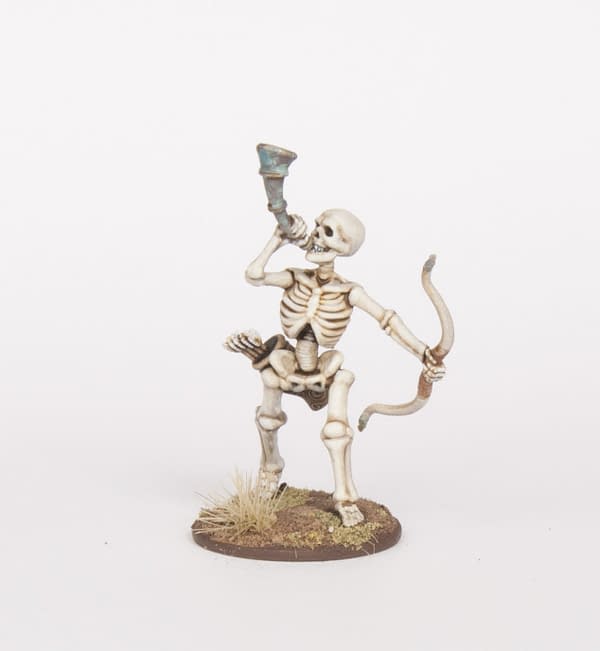 Both of these kits will be released in May, so you should check with your local game store for pre-order information! Chances are, if they carry Frostgrave minis, they can get these awesome new kits from Wargames Atlantic in for you!