Persona Q2: New Cinema Labyrinth Receives an Official Release Date
Atlus released a new trailer and info on the release of Persona Q2: New Cinema Labyrinth, including all the special editions you can get. The game will be released on June 4th and the regular 'ol 3DS version will be going for $40, which isn't that bad for a new game based on a franchise. However, it will have Japanese voiceovers and English subtitles. Below are all the standard things the game will include, but there is also a Showtime Premium Edition that will sell for $70. That version includes a 5" Koromaru plush toy, an art book, four protagonist buttons for each of the main characters, and a set of playing cards with characters from the series.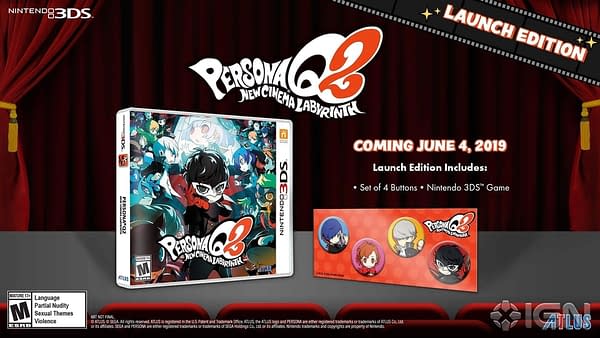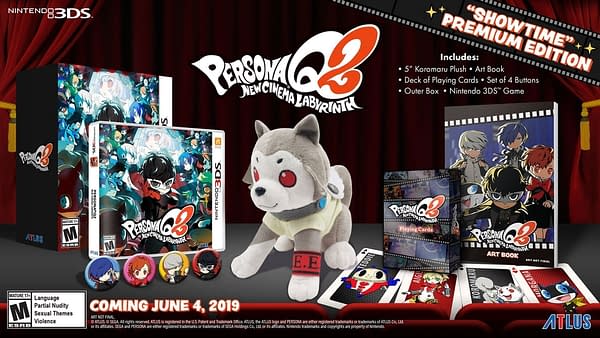 Persona Q2: New Cinema Labyrinth Features:

Joker Takes Center Stage – Experience a thought-provoking story from the perspective of the protagonist from Persona 5 as you along with the other Phantom Thieves meet the S.E.E.S. from Persona 3 and the Investigation Team from Persona 4 in a cinematic world!
Persona 3 Portable's Female Heroine Steals the Spotlight – Persona Q2: New Cinema Labyrinth will feature the long-awaited addition of P3P's female heroine who will play a pivotal role in your adventure through the silver screen!
Paying Homage to the Classics – Explore a series of labyrinths parodying popular film genres with plenty of references true film fans will love!
We've Got Company – Persona Q2 expands on Persona Q and Persona 5's combat systems, including a new Unison feature. By completing side quests, certain groups and pairings will team up to unleash their own special attack!
For the World Cinema Aficionados – Immerse yourself in Persona Q2: New Cinema Labyrinth thanks to its Japanese voice audio track with English subtitles. This will mark the first time many fans will hear the original Japanese voices of the Persona 3 cast!