Puyo Puyo Tetris
{{ reviewsOverall }} / 10
Users
(0 votes)
Summary
DEVELOPER: Sonic Team PUBLISHER: Sega REVIEW PLATFORM: Switch OTHER PLATFORMS: PS4 RELEASED: 4/25/17
A few years ago, Sega released Poyu Poyu Tetris, mixing two puzzle games that have become beloved in different ways over the years into one game. For some, this is the kind of dream mashup game that fans wish they could have happened more frequently. For others, they were content to having one or the other and really didn't need to have the two thrown together. This week, the Nintendo Switch and the PlayStation 4 are getting their own versions of the game, so we popped our in and dropped a few lines of our own.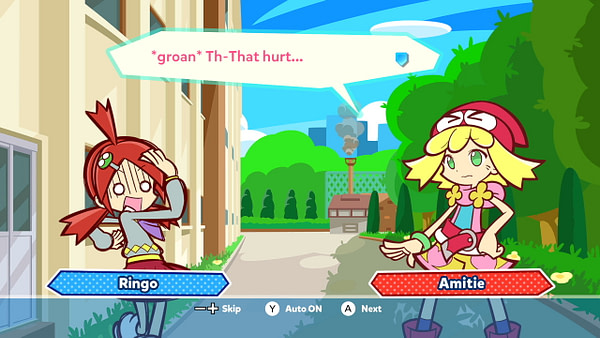 The game pretty much plays as the versions before it. You have an Adventure mode that takes characters from the Poyu Poyu universe and puts them in a world where the game Tetris also happens to exist. You get involved with the weird backstories and eccentricities of the other characters as you do battle against the CPU, as well as timed and battle mode games to advance the plot. You end up switching between both game modes, depending on how the story dictates your motives.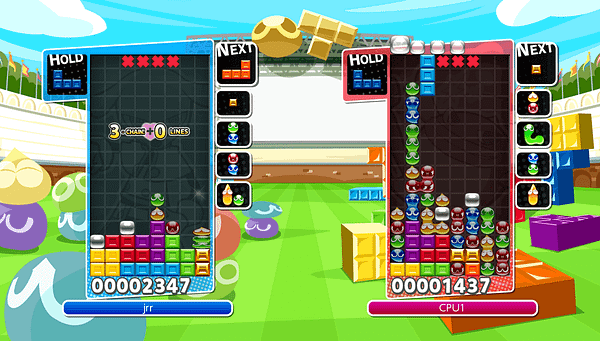 If the story isn't your fancy, you have several options in front of you. You can play either game alone or do a "fusion" of the two which brings the difficulty up a few notches. You can choose Solo arcade and take on multiple CPU players at once, a Multiplayer Arcade where you and four other players can ballet remotely or on joy-cons, and an Online mode where you can take on people from around the world. Each one offers its own challenge that will give you hours of gameplay and help you hone your skills against friends and strangers.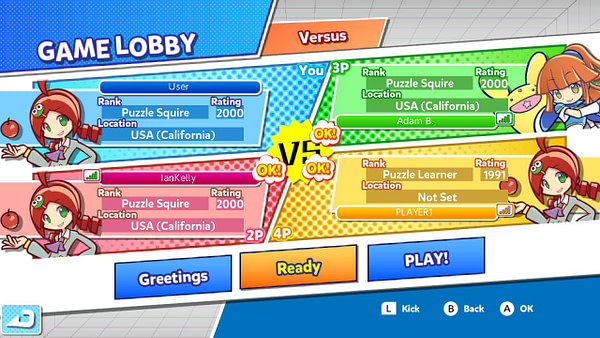 As much fun as Poyu Poyu Tetris is, there are a couple drawbacks that really sour the experience. First, online play has no rationalization focus. I can put in that I love in the U.S., but it doesn't mean anything as you're forced to play whoever is online and waiting to play next in line. So one minute you're playing a kid in Japan learning the game as well, and then the next you're getting served by a Russian grandmaster Tetris player with no hope of recovery. It makes it really difficult to level up and achieve anything in the game through online competition, and the game isn't shy about reminding you how far down the ladder you are compared to the world and your region. Also, there's no confirmation of region, so I'm technically already 207th in my area after many Japanese players decided to lie about where they lived to get a better rank. The solo arcade is almost as frustrating as the CPU gives little quarter when it comes to difficulty. Going one-on-one is fine and brings in an even challenge, but once you bring in multiple players the game is out for blood. Doesn't matter how good you are at your respective game, you will get beat frequently by the CPU as it taunts you over and over with whatever random character you chose to face off against. But the most annoying factor to all of this is that we had to have Tetris, one of the best puzzle games of all time, paired up with Puyo Puyo to get a decent Tetris game. If you're a fan of Puyo Puyo, that's fine, nothing against you. But it is an inferior puzzle game by comparison, and adding in one of the biggest sets of annoying anime characters doesn't endear it to me as a gamer.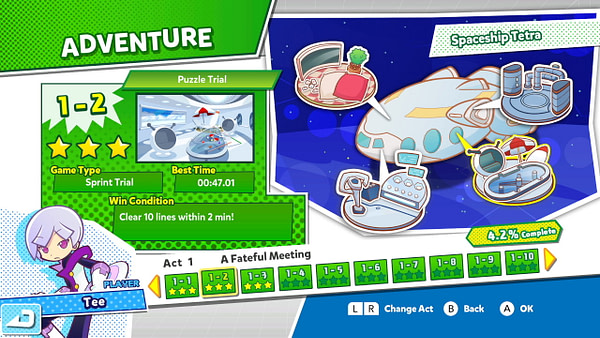 For the past decade or so, Tetris has had its own set of ups and downs when it comes to having a proper game. The last game to have any decent quality to it was Tetris Evolution, but even that came with issues. Here, in this current version, you have about as good of a version of Tetris you can get with online capability and multiplayer function that isn't bogged down with useless features and add-ons. It feels like a Tetris game we should have had years ago. And the only way we were ever able to get it was to have it married to a game that no one really asked for it to be married to. Seriously, how many game fanatics were kicking back and thinking "You know what this is missing? Puyo Puyo!"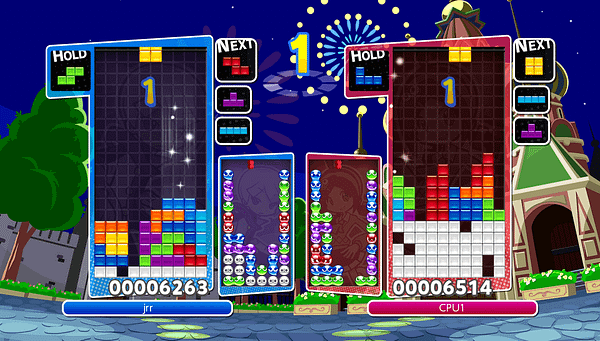 Poyu Poyu Tetris is alright for what it is, but the difficulty and issues with online play are definite drawbacks that need to be patched and revised. I appreciate the effort that Sega went into making this, but at the same time, I would have been much happier with an advanced Tetris game with all the same features. And I'm sure there are Poyu Poyu fans who feel the same way about the other. If you really like one of these games, you should get it and play it for those modes. But be aware, going anywhere else in the game will mean being a master of both puzzlers.
What people say... Leave your rating
Order by:
Be the first to leave a review.
Show more