Puzzle Bobble Everybubble! Reveals Two New Modes
Puzzle Bobble Everybubble! will be getting two new modes to shake things up as you'll have online multiplayer and a crossover.
---
Taito and ININ Games revealed two new modes coming to Puzzle Bobble Everybubble! that will shake up the gameplay beyond the puzzle solving. The first addition to the game will be Online Multiplayer, as you'll have the chance to take on a friend or a random opponent in special battles that will see who can take on the challenge the fastest. The second mode being added is Puzzle Bobble Vs Space Invaders, a wonderful little crossover between two iconic titles as the two games mesh into one for an interesting but challenging time. We got more info on both of the modes below as the game is still earmarked for release on May 23rd for Nintendo Switch.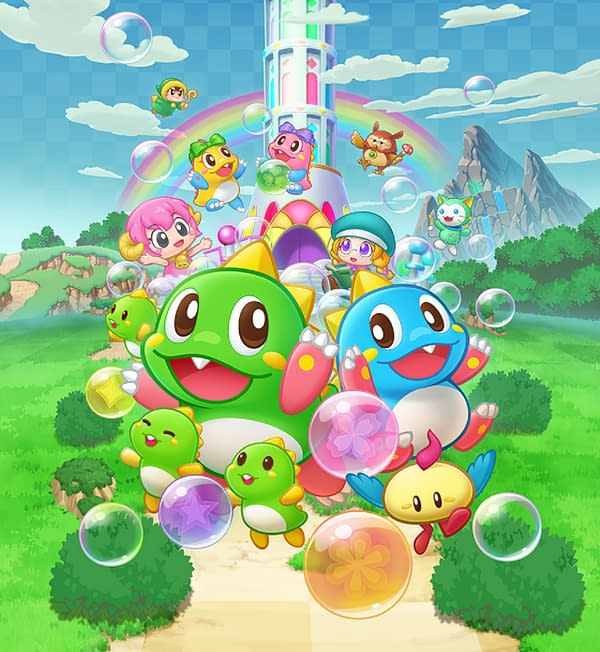 One vs. One Online Multiplayer
In this new Puzzle Bobble title, you will be able to play one vs. one online battles against players from all over the world. Ratings and classes will go up or down depending on the results of your wins and losses, so improve your skills and aim for a higher class! Using the "Password Matching" function, you'll also be able to play online with friends anywhere in the world– as long as they, too, have set up the password! Online play requires a (paid) subscription to Nintendo Switch Online.
Puzzle Bobble Vs Space Invaders
But that's not all! Puzzle Bobble Everybubble! also includes a very special game crossover: Puzzle Bobble Vs Space Invaders, perfect for celebrating the 45th anniversary of one of the games that made arcade history and, to be fair, most of our childhoods. In this mode, players try to erase the bubble-encapsulated Invaders by stacking three or more bubbles of the same color together, whilst avoiding the Invaders' shots. Bubbles can only be fired straight up, so players have to move their characters left and right, just like in the universally beloved arcade game.