Razer unveiled a brand new set of gaming peripherals while at Computex in Taipei this week with the 2019 Mercury Collection. This is basically a sleek white collection of gaming gear for people who want to change out their look from the standard black that the company usually decorates their gear in. As you can see from the image here, they ran the gambit of products in their line for this, which includes the Razer Atheris wireless mouse, the Razer Basilisk gaming mouse, the Razer Goliathus Extended Chroma mouse mat, the Razer BlackWidow Lite keyboard, the Razer Huntsman gaming keyboard, the Razer Kraken gaming headset, the Razer Raiju Tournament Edition controller for PS4, the Razer Seiren X microphone, and the Razer Base Station Chroma headset. We have the full details and price points below for everything you see here, as all of these will hit the market both on Razer.com and worldwide on May 28th.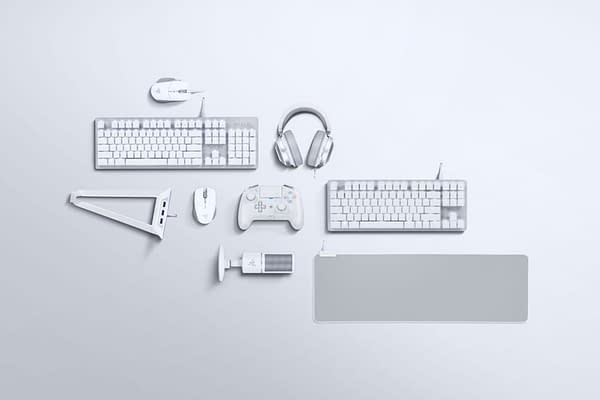 Razer Atheris – Mercury Edition

USD $49.99 / €49.99 MSRP

Optimized for both work and play, the wireless Razer Atheris is packed with features such as industry-leading signal stability, dual-connectivity, and up to 300 hours of continuous use, all in a pocket-sized ergonomic body, focused on delivering performance and productivity.


Razer Basilisk – Mercury Edition
USD $69.99 / €69.99 MSRP

Armed with features such as a removable multi-function paddle and a dial for adjusting scroll wheel resistance, the Razer Basilisk offers a dynamic range of options to augment your performance and take your gaming experience further.

It features Razer Chroma lighting that allows customization with up to 16.8 million color options.


Razer Goliathus Extended Chroma – Mercury Edition

USD $59.99 / €79.99 MSRP

Our bestselling soft gaming mouse mat powered by Razer Chroma – ready to illuminate every victory in a spectrum of colors. Watch your game light up with vivid brilliance as you swipe across the Razer Goliathus Chroma with speed and precision.

 

Razer BlackWidow Lite – Mercury Edition

USD $89.99 / €99.99 MSRP

It's time to reconsider the tools you use every day—meet the Razer BlackWidow Lite. It melds the fast responsiveness for gaming with toned down features to be subtle for the office. High performance keys with o-ring sound dampeners, and true white LED backlighting keep you focused and productive as you type away even into the late hours.

Razer Huntsman – Mercury Edition

USD $149.99 / €159.99 MSRP

Designed with Opto-Mechanical Switches and Razer Chroma-backlit keys, the Razer Huntsman provides the fastest key actuation within Razer's keyboard line. Razer Opto-Mechanical™ Switches use optical technology – an infrared light beam inside each switch – to precisely detect actuation when a key is pressed. You've never experienced speed like this before.

 

Razer Kraken – Mercury Edition

USD $79.99 / €79.99 MSRP

The 3rd generation Razer Kraken is the wired headset of choice for competitive gamers, with 50 mm drivers for powerful and clear sound. It's engineered for long-lasting comfort with cooling-gel cushions, while a retractable microphone ensures your shot calls are always delivered in absolute clarity.

Razer Raiju Tournament Edition – Mercury Edition

USD $149.99 / €149.99 MSRP

The Razer Raiju Tournament Edition is the first fully modular wireless PlayStation®4 controller to have a mobile configuration app, enabling control from remapping multi-function buttons to adjusting sensitivity clutch options. Mecha-Tactile Action Buttons provide a soft cushioned touch with crisp tactile feedback. The Raiju Tournament Edition also delivers total control with 4 remappable multi-function buttons and Hair Trigger Mode for quick-firing action.

The Razer Raiju Tournament Edition is available in Europe, Asia and Oceania.

Razer Seiren X – Mercury Edition

USD $99.99 / €109.99 MSRP

Designed and tested by top streamers, the Razer Seiren X Mercury microphone is the key to getting heard in the mightiest way possible. Backed by the best microphone technology, it's the first step to taking live streaming to new broadcasting heights.

Razer Base Station Chroma – Mercury Edition

USD $59.99 / €69.99 MSRP

The Razer Base Station Chroma is a multi-function headset stand with a 3-port USB 3.0 hub for maximum efficiency. It features Razer Chroma backlight for a complete Chroma gaming setup.
Enjoyed this article? Share it!