Razer Reveals The Blade 15 Studio Edition For Creators
razer revealed another laptop for their line this week as we got to see the new Blade 15 Studio Edition designed with creators in mind. This thing was basically tailored to meet the needs of several creator types who create on the go including streamers, audio pros, designers, VFX artists, and more. This version of their mobile studio comes with the latest 8-Core 10th Gen Intel processor and an NVIDIA Quadro RTX 5000 GPU, which is accented with supportive features such as a custom calibrated 4K OLED touch display, a UHS-III SD card reader and USB-C charging. You can read more about it from the company below, and if you're interested in buying one, you can get it off their website and select retailers right now for $4,300.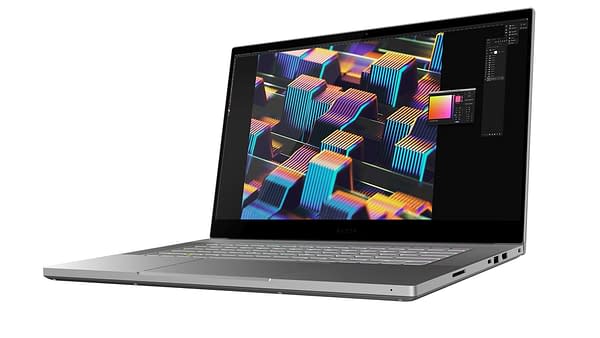 Inside the Blade 15 Studio Edition is the new 8-Core 10th Gen Intel Core i7-10875H processor capable of up to 5.1 GHz clock speeds when utilizing Intel Thermal Velocity Boost technology. The eight cores paired with the improved boost clock speeds, results in significant performance gains in CPU intensive applications.

For creators and technical professionals working with dense 3D models or complex VFX designs, the Blade 15 Studio is equipped with the NVIDIA Quadro RTX 5000 GPU. The Quadro RTX 5000 boasts 16GB of GDDR6 memory for multi-app creative workflows and 48 RT Cores for improved real-time ray tracing performance, allowing creators to interact with their work in new and unique ways.

"If I was to ask myself a few years ago, if I could pull off a high concept CG animated project like Battlesuit on a laptop remotely – I would probably think I was insane," said Hasraf 'HaZ' Dulull, Director and Producer of Battlesuit. "Today, tools like Unreal Engine powered by NVIDIA GPU rendering on a Blade laptop are empowering filmmakers like myself to push the boundaries of sci-fi storytelling without restrictions, thus enabling me to realize my vision regardless of how wild my imagination is".