This morning, Razer revealed their brand new gaming keyboard as a previous model gets an upgrade with the Ornata V2. This is basically a complete update of the original as this version comes with better dedicated media controls, an infinite scroll wheel, and a plush leatherette wrist wrest which is connected magnetically to the front of the keyboard. It also features fully programmable keys which are customizable through Razer Synapse 3, and unique lighting effects with Razer Chroma RGB that sync that works with over 100 game titles, including Apex Legends, Fortnite, Warframe, and more. You can read more about it below, but if you wish to purchase it, you can do so through the company's website or through Best Buy locations for $100. It looks pretty dope and we hope to maybe get our hands on one to review for you, as this is most certainly a welcomed upgrade.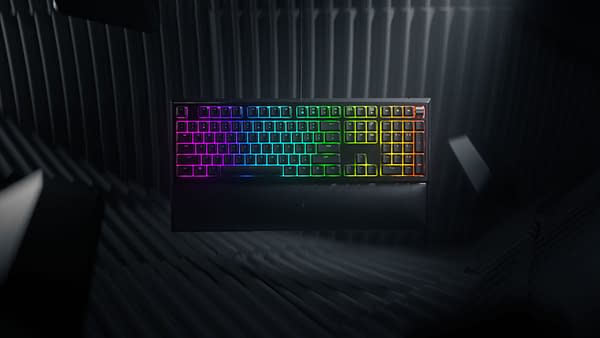 The Razer Ornata V2 is the latest iteration of the innovative Ornata keyboard, which debuted with Razer's revolutionary Hybrid Mecha-Membrane switches. Combining the best of both worlds, the Razer Hybrid Mecha-Membrane switches provide a soft, comfortable typing feel with the positive clicky feedback of a mechanical switch. Now featuring dedicated media controls, with an infinite scroll wheel and three media keys, the Ornata V2 brings the best in gaming and media to one hybrid keyboard, with track skip, play and pause and volume control in one area, all programmable through Razer Synapse 3. For long play sessions, the Ornata V2 comes with a plush, leatherette wrist wrest, connected magnetically to the front of the keyboard. With fully programmable keys, customisable through Razer Synapse 3, users can program macros, keybindings and custom profiles. Featuring Razer Chroma RGB, users can access unique lighting effects and in-game integrations from with over 100 game titles, including "Apex Legends", "Fortnite", "Warframe", and more.
Enjoyed this article? Share it!