Rebuilding With Friendship – We Review The Settlers: New Allies
We sat down and played The Settlers: New Allies as Ubisoft gives new life to the franchise with the first game in over a decade.
---
It's been a while since we've seen a proper game come from The Settlers franchise, but Ubisoft finally released one after over a decade with The Settlers: New Allies. The last time we got a proper game for the franchise was in 20210 when the company launched The Settlers Online. Since then, there has been one attempt to make a game with The Settlers: Kingdoms of Anteria, but the project was canceled and later turned into Champions Of Anteria in 2016. A few years ago, the team decided to make a brand new attempt, which for the most part, flew under the radar while the company was cranking out new titles from Assassin's Creed, Just Dance, Watch Dogs: Legion, and Far Cry 6. The latest incarnation was released back on February 21st for PC, with every other platform set to get the game on March 23rd. We got to play a preview session for the game, and, eventually the final product on Ubisoft Connect, which we're reviewing for you now.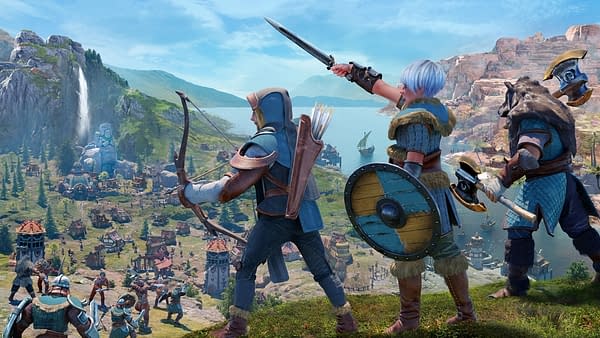 The premise for The Settlers: New Allies is pretty simplistic. You will control the lives of a small civilization of people driven from their homelands as an outside invader raids them. You escape with as many people as you can to a new location where you not only have to set up a new home to survive and thrive in but now have to seek out allies to aid in your efforts. The goals in front of you are two-fold: Make new friends to work together while also finding who this new enemy is and unite for a common cause to drive them from the many lands they have raided. Will you be able to rebuild your society and take back what's rightfully yours? Or, at the very least, get vengeance on those who tried to pillage your homes and leave you for dead?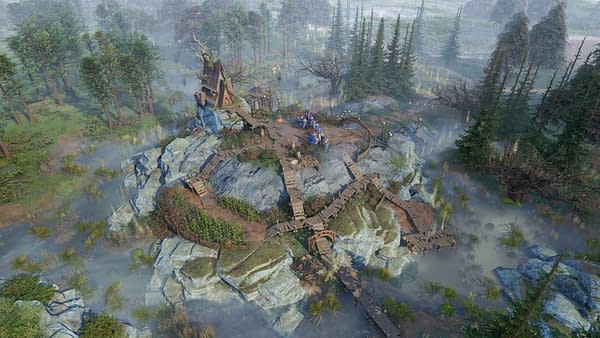 The game does a masterful job of mixing two different genres into one title, as you're getting equal parts real-time strategy and city-builder. After the tutorial for the main storyline, you'll escape to a new land where you'll need to start over. This involves several key aspects, but unlike other RTS titles, much of the management aspects have been simplified. You won't need to meticulously go through and make sure you're making new villagers, making sure they're fed, doing their jobs, training them, and whatnot. The core basics of the game have been changed so that as long as you manage to do the basics, everything will be fine. For example, do you want people in the village? Build a home, and the population increases. Want them fed? Establish a farm or a fishing hut. Need resources, have your engineers find them and set up a mine. Need storage? Build a city center and roads leading to it.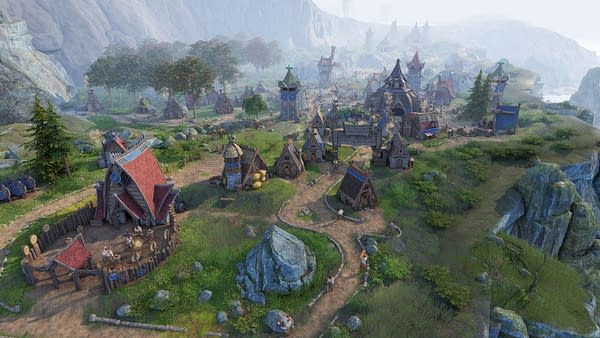 The Settlers: New Allies makes assigning jobs pretty easy as well. When you grow your population, you'll have people just hanging out and waiting to be assigned a job. All you need to do is select what you want and how many people to do it, and it will auto-train them one by one to do the work. If you need hunters, lumberjacks, soldiers, engineers, etc., all you have to do is make sure you have a steady population and people to assign. There's no fatigue or frustration from your people, either. Everyone knows they need to do their part, or the settlement doesn't work. So there's no endless management of everyone's feelings, or exhaustion points, need for money or desire to change their lives. Those mechanics are fine, but sometimes you just want people to go build a damn house or go get copper out of the ground, and this does that well.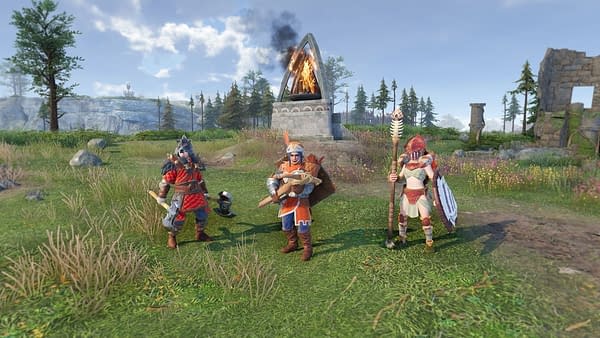 As the game progresses, you'll run into other civilizations and enemies. Most of the enemies are raiders who can easily be dispatched with any number of units you've assigned from your army, whether they be archers or knights, or even scouts who can run around unseen and report back about what they find on the map. Other times you'll come across new groups that you can work with to help in the common cause. You'll run across some very helpful people who have suffered the same fate as you, and as you play out the story and take care of certain objectives, you'll see a plethora of options open in front of you that you would never have had access to on your own as a civilization. But the one thing you'll need to keep a keen eye on is your defenses, as you'll be tested time and time again both in the wilderness and at home with raids and attacks. You'll have the tools necessary to fend off anything, but you'll need to resources to accomplish it. There was a level we got stuck on due to frequent raids, where we needed guard towers to fend them off with a low army. The only resource we had to stall them was fake soldiers for them to attack, requiring a ton of wood to create everything. So while some areas are simplified, the challenge still remains to stay in one piece and not be slaughtered.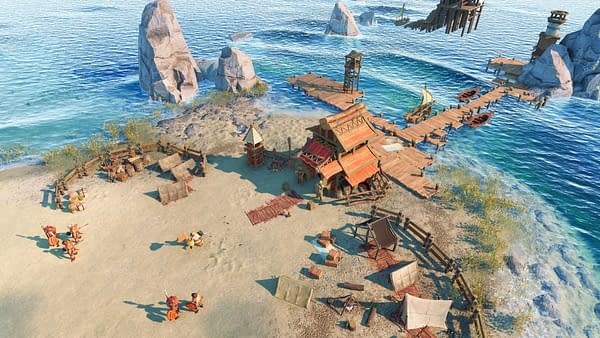 The Settlers: New Allies has some fun online multiplayer options as well, as you might expect from an RTS, as you'll have options for fighting multiple opponents at once, both human and AI, to be the last one standing. There are also creative challenges that you can undertake, such as racing against other players to find a resource and be the first to mine enough of it in a certain amount of time, but these feel a little tedious sometimes. It also isn't too fun that you can't choose the maps when fighting against other players or setting up multiple conditions beyond the basics. The game also has bonuses and boosters you can get with in-game currency. I'm not a fan of it, but I understand why it's here to heighten the experience and offer different ways to play. There are also three levels of difficulty if you want to see how skilled you are, but for the most part, I feel like this is something that will be expanded on in DLC content down the road.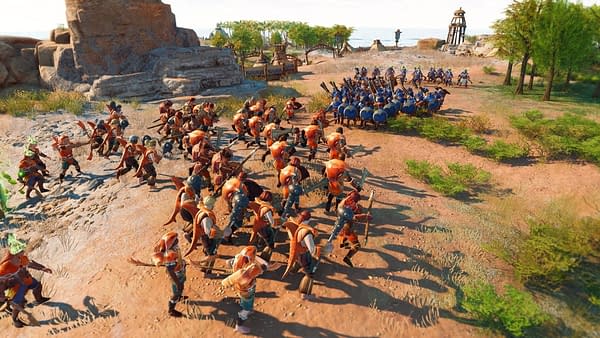 Overall, I had a lot of fun playing The Settlers: New Allies. Hardcore RTS fans are going to knock it for its simplicity and the short storyline if you happen to be greatly skilled at the genre. But if you're looking for something casual with the same premise, or have kids looking to get into RTS and you want to start them off slowly, this makes for an awesome title. It doesn't need to be in your face micromanaging to be a great game. That said, there are areas it could use some improvement, multiplayer needs more options and refinement, and it would be nice to control what you can do in multiplayer so that it doesn't feel like the same thing all the time. It's worth checking out if you love city building and RTS titles.
---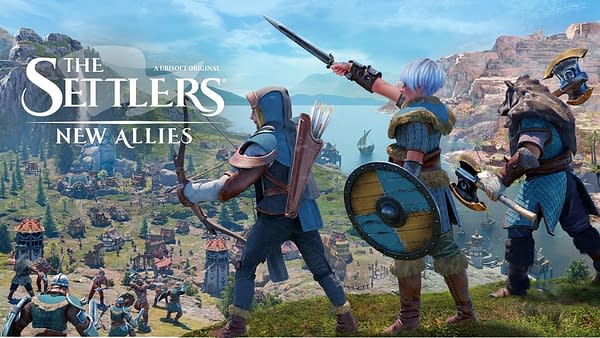 ---
It's no longer about surviving on your own; it's now time to make a stand against a greater enemy, as Ubisoft has taken the franchise in a new direction with The Settlers: New Allies. One that may very well breathe new life into it for years to come.
Credits
---
Developer
Ubisoft Düsseldorf
Also Available For
Amazon Luna, Nintendo Switch, PlayStation 4, PlayStation 5, Xbox One, Xbox Series X|S
Release Date
2/17/23 (PC), 3/23/23 (All Other Platforms)