Review: PDP's Smash Bros. Wired Fight Pad Pro
Super Smash Bros. Ultimate is on the way, and PDP is fully aware that there are gamers who desperately want to play it with a Game Cube controller. So the company got together with Nintendo and created some officially licensed gear for those who have no love for joy-cons or a pro controller. We got a chance to review all three of their new Wired Fight Pad Pro controllers just before the new game makes its way out next week.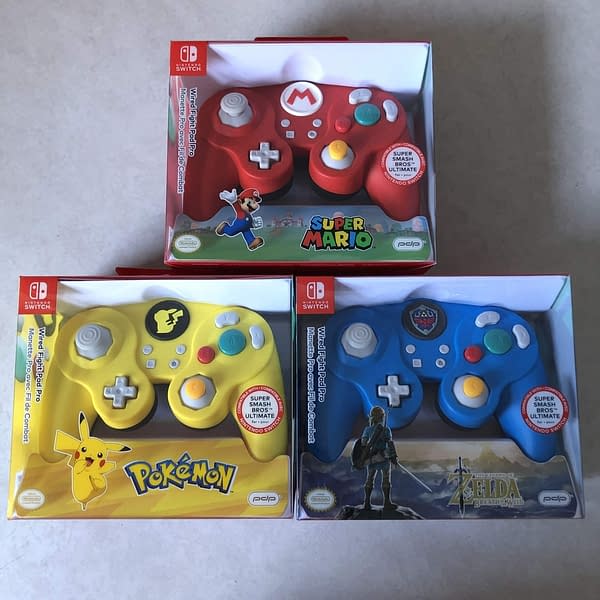 For the purposes of this review, we'll use the Zelda controller to show off all the finer points. As you can see from the design, this was made to look as much like a Game Cube controller as possible, but still have the functionality of one built for the Nintendo Switch. The grips and both sides of the controls nearly match up with the original. But after holding it and testing the weight, we'd say this is about a 90% replica. There's a difference to be noticed for sure, but having played a Game Cube version before testing this one as a bit of a refresher, it's barely noticeable.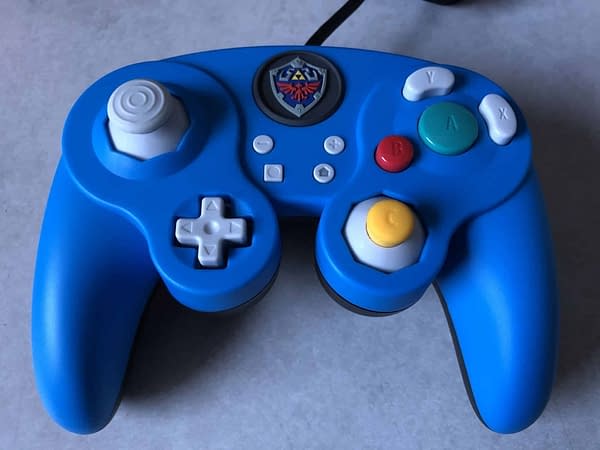 The A, B, X, and Y buttons are all in the same configuration, and surprisingly, click and press just like the original. The B button does stick out a little more than the predecessor, which is a design complaint that split some hardcore fans as it was sometimes easy to slide over. Not so much now as it's only a centimeter off from being on the same plane as the A button. The X and Y buttons are still slightly raised, giving that weird sense of thumb security placement I remember feeling.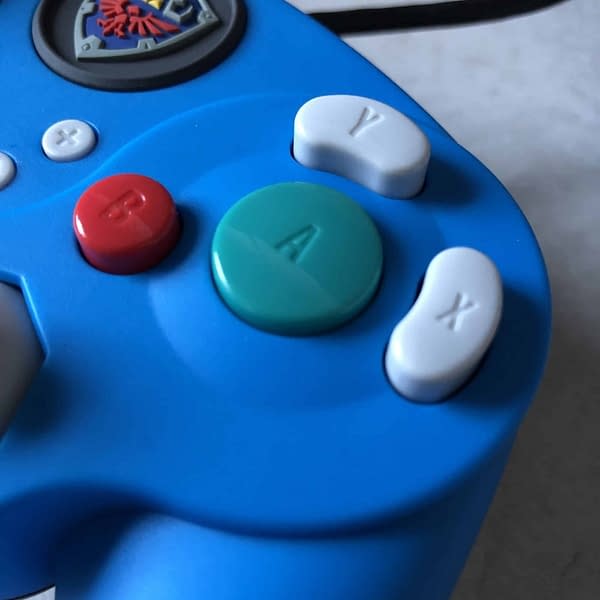 The C button had changed a little bit in the design as the top has less of a plastic feel and more of a rubberish feel. It's still plastic, don't be mistaken, but there's a texture added tot he top of it so your thumb isn't getting the skin rubbed off trying to navigate it. This button is also pushed up a little and the pull of the direction you move it in feels more prominent. Like you notice it better than you once did. The Start/Select button has been replaced with the standard Switch controls for +/-, Home, and the photo button. It's to be expected since it's a different console, and anyone throwing a fit over it is wasting their breath. Because what are you really controlling with just one button on an advanced console?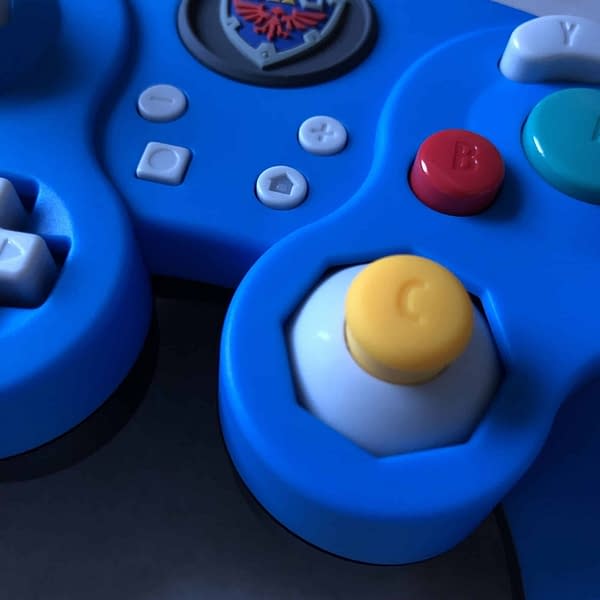 The D-Pad and the joystick are virtually unchanged. They are about as standard and carbon copy on the Wired Fight Pad Pro as it gets. Depending on what kind of player you are, that can either be a good thing or a bad thing. I remember people complaining about the size of the D-Pad and how it was designed, where sometimes you'd press up and go left because it was so small that the internal sensor would misread that. That problem seems to have been fixed, but it still feels like a micro D-Pad compared to previous consoles and even the current one on the Switch. No real issues on our end from the joystick, it's free with a full range of motion, sans the eight corners.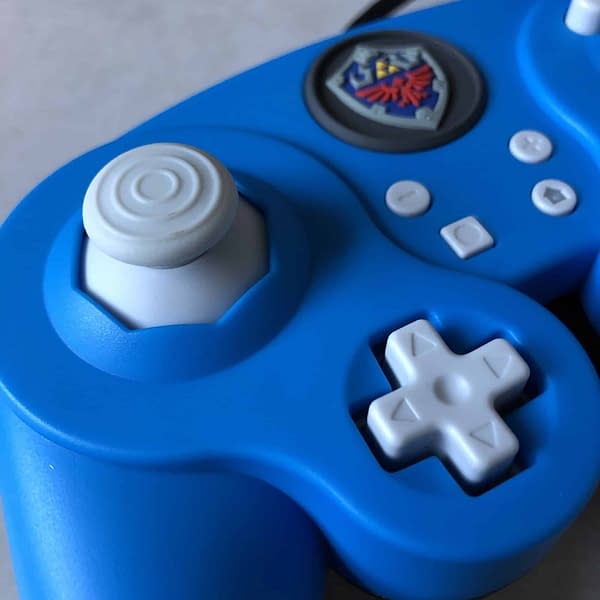 The top buttons for the L and R are still in their usual sports, as well as the original Z button placement. However, it is a Switch controller, so the Z button has been shrunk and given a twin for the ZL and ZR buttons. Not the biggest change on the controller, but one that needed to happen in case you use this on other games. The back side to this has thankfully been given a makeover to have a smoother design that feels more comfortable in your hands. I don't know how others felt about the Game Cube controller, but hours of holding it would cramp up my wedding and pinky fingers. This has a more natural grip that feels relaxing in my hands. No complaints here for what is clearly a smarter design choice.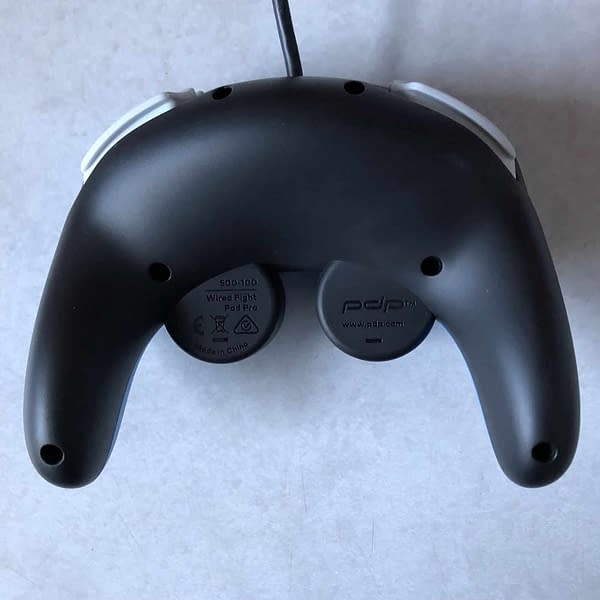 Because it's a throwback, of course, the controller is designed to have a USB port to plug into your Switch. Good news is you have an authentic feeling. The bad news is that without a port splitter, it's a two-player experience at best. While I appreciate what they were going for, the Switch is designed to be a wireless system. Adding a cord for anything beyond charging a controller feels like an unnecessary step for authenticity. Sure, you'll have hardcore gamers complain about connection issues, because there's always something wrong playing wireless in tournaments. But for home use, this is an annoyance.
As a side note, in case you break it, you get a replacement head for the joystick and a small instructon manual, which I thought was adorable.
As a nice little touch to each controller, they all come colored in different forms to represent different characters. The blue one for Zelda comes with a Hylian Shield at the top on a black circle, the red one for Mario comes with an M on a white circle, and the yellow one for Pokemon comes with a Pikachu on a black circle. These additions are rubber and do a fine job of filling what was basically empty space on the originals. They don't do anything like light up or serve as a button, they're simply flare, but they're nice flair. Aside from the color scheme, it's a good way to show the difference between players. It's a shame they didn't make a green one for Zelda and make a blue one for someone else like Metroid or Kirby, that way you'd have one for each color. But they only chose to make three for now.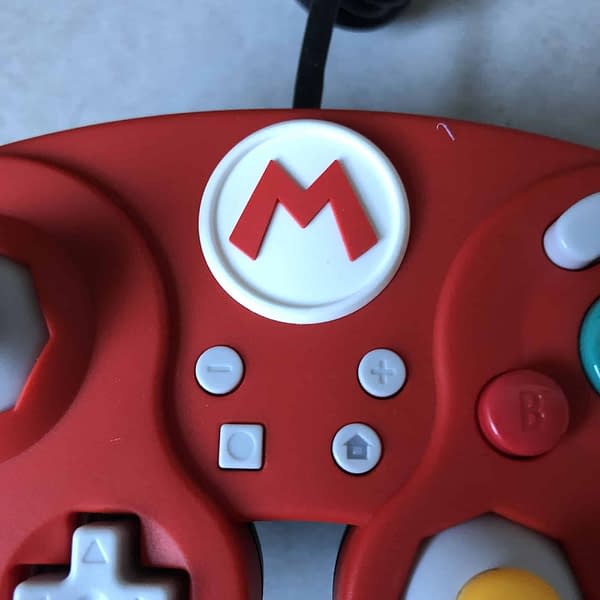 Overall, the Wired Fight Pad Pro is an awesome controller from PDP and an excellent fit to the Nintendo Switch for those who want an older controller to play the newest incarnation of the game. Will it 100% ease the woes of Game Cube fans? Of course not! There will always be a contingency of people who cling to the past and say its better. There's a reason that players who want these controllers have been playing the same version for 17 years. They feel it's superior. And the same goes for the controllers they use. But those who want to make the switch need the electronic version of comfort food in their hands, and that's what these do well. These will make a LOT of players happy when they use them on Super Smash Bros. Ultimate, but not everyone. That said, if you absolutely need a Game Cube controller, this is a fine fit that Nintendo approved. You can currently buy them at $25 a pop from PDP's website.