Review: Toki Retrollector Edition for Nintendo Switch
[rwp-review-recap id="0"]
One of the coolest box sets for a game we got sent to us in a while was the Toki Retrollector Edition for Nintendo Switch from Microïds. This is a full-on special edition of the game meant for hardcore Toki fans who seriously wanted to relive the game the best possible way they could. When we finally got a moment to sit down and play with everything inside, we took the time to look it all over and review what we got.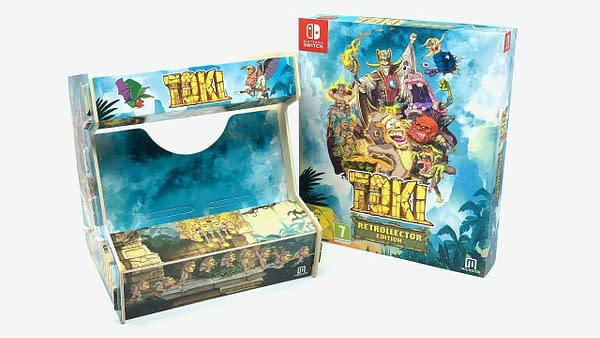 So let's start off with the game, which is basically a fully-animated reimagining of the original as you have Toki Remastered inside. If you've never played Toki original recipe, here's the gift of it. Your caveman times girlfriend gets kidnapped by a powerful sorcerer, and before you can stop him, you get transformed into a small ape who can shoot pellets out of his mouth. You then get to run through the jungles and other treacherous plains in the game trying to rescue her and hopefully be transformed back into your caveman self in the process. It's late '80s platforming glory in its finest form, only this time around it's been revised to looks amazing with newly hand-drawn animations.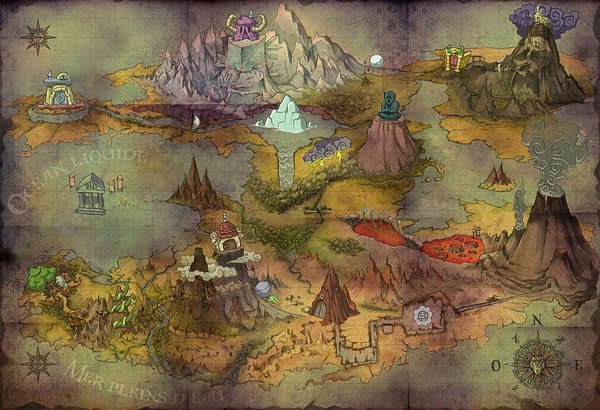 The game itself pretty much plays like the original with a couple of changes for the home console version compared to the arcade and original console/PC versions. What makes this edition shine is what you get inside the box. First off, you get the game as a cartridge title, because it is a physical edition. Next, you have a small comic that gives you a far more detailed version of the story before the game kicks off. After that, you have two autographed lithographs that are individually numbered, one of a belching Mogulvar and one of concept art of you and your girlfriend in human form. Next you have a set of stickers of Toki and various enemies from the game. Finally, the big item is the arcade cabinet.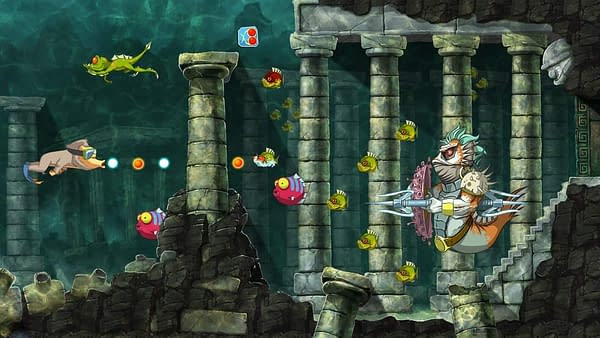 You build the cabinet, which is made from pretty sturdy wood and plastic materials with a couple of rubber bands so that you can slide the Nintendo Switch screen into the box with the joy-cons detached and play the game like it's an arcade. It's kinda cool to look at but it has the drawback of having no front slot to put a joy-con in, so the base panel where you'd have your joystick and button doesn't exist. You have to play the game like it's on a remote control. Overall, Toki Retrollector Edition is a cool collector's set and one worth purchasing if you're a hardcore game retro collector. It is a little more pricey at $60 as the regular game $30, so if you just want to relive the classic with a new look, the regular will also work for you.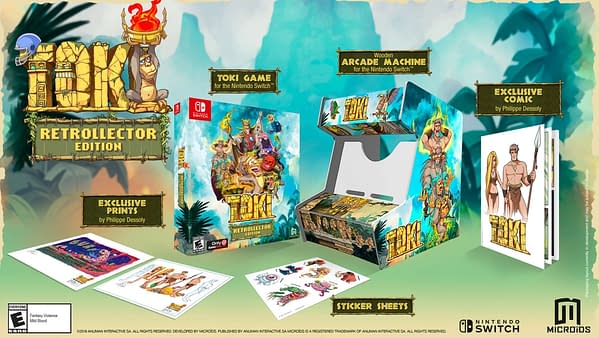 [rwp-review-ratings id="0"]
[rwp-review-form id="0"]