"Ritual: Crown of Horns" Receives A Proper Launch Trailer
Feardemic and Draw Distance have released a proper launch trailer for their latest indie release Ritual: Crown of Horns. The game was released back on Thursday for both Steam and the Nintendo Switch as you find yourself in the bloody wild west. You get to play as Daniel Goodchild, an ex-bounty hunter who gets resurrected by a witch, who wants him as her bodyguard in exchange for him being able to get revenge. You get to go all over the old U.S. looking for a cult using a series of rituals. Enjoy the trailer to this awesome game!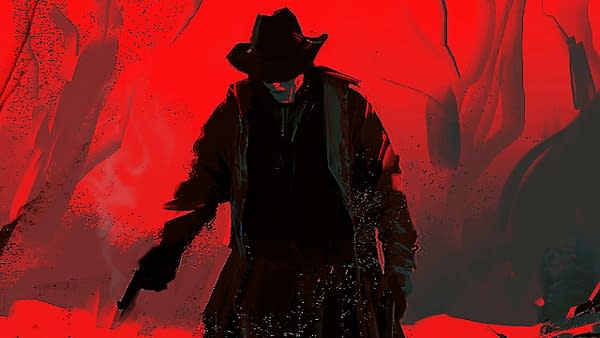 Ritual: Crown of Horns is a slaughterhouse: a fast-paced action game set in an alternate Wild West, a demonic version of a hellish frontier. This arcade-inspired title unravels a tale about an unlikely duo: a bounty hunter who comes back from beyond the grave, yearning to exact revenge on his killers and a witch who aids him with a series of powerful rituals to further her own agenda.

Push back hordes of enemies, while the witch performs her ritual. Use a whole arsenal to your advantage: mindfully swapping between weapons and spells. Unlock new tools and powerful items boosting your character. Travel throughout the Weird West picking your missions and planning future unlocks to finally exact your revenge!