Rune II Receives A Brand New Lazarus Update Available Now
Ragnarok has released a new update to Rune II this week as players can get a taste of the Lazarus Update right now. Ever since the publisher took control over the game from Human Head Studios, they've been busting their tails trying to make sure the game lives up to the hype they originally intended for it. Right now you can only play the game on the Epic Games Store, but as we wait for other editions of it to be released, they've added a couple of bonus packs to the standard game in the form of the God Slayer Pack and the Berzerker Rage DLC. The Lazarus update is free for the game, as it brings in a complete overhaul of the core gameplay. Combat and player progression have been redesigned, villages and villagers have been added, and a number of other items have been fixed. Here's some added info and a trailer from the devs about this update.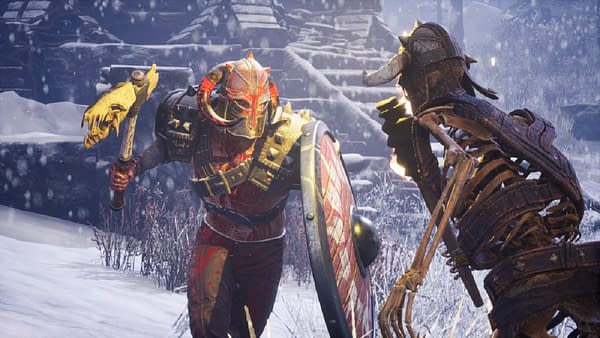 As players progress through the game to rebuild Midgard one piece at a time, villagers will return to the land. Villagers provide narration to the side quests and will grant bonuses to aid players in their quest to vanquish the mad god Loki. Loki has plunged Midgard into perpetual chaos, and you are the chosen warrior who must embark on a perilous journey to end Ragnarok. Fight off legions of minions bent on preventing you from destroying this pious menace. Alone or with friends, tear each enemy apart limb from limb in this chaotic, open-world saga, filled with brutal melee combat. Collect rare resources, locate divine artifacts and battle through the unique Ages of Ragnarok as you seek to craft the very sword used by Loki himself and destroy the trickster god with his own blade.