Sabine and Bossk Blast Their Way into Star Wars: Legion
The Galaxy of Fantasy Flight Games' Star Wars: Legion just got a lot deadlier, with the announcement of the Sabine Wren and Bossk expansion sets: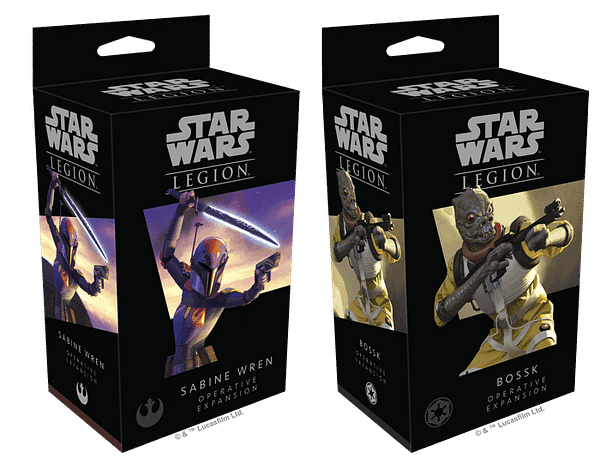 Both of the new characters can be fielded as Operatives in Legion, like Boba Fett and Chewbacca before them. Sabine is the perfect counter to Fett, too, with her Mandalorian armor, military combat training, and the addition of the fearsome Darksaber: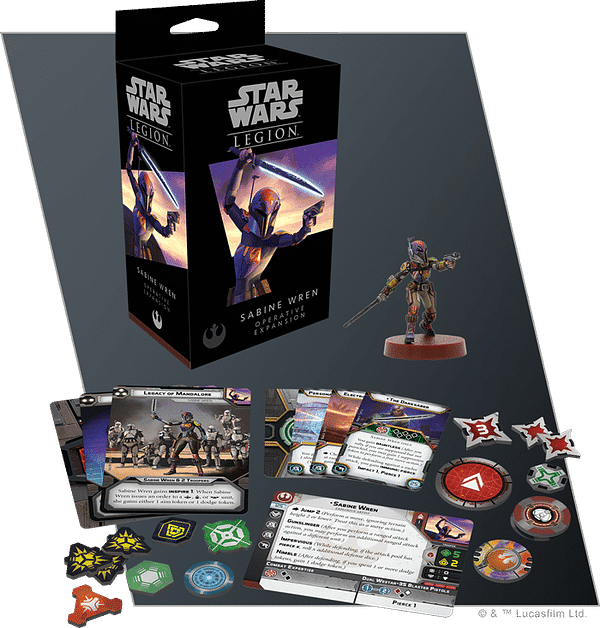 Born into the proud warrior culture of Mandalore, Sabine Wren carries the history of her people within the very armor she wears into battle. This history fuels her desire to see Mandalore freed from Imperial rule and returned to its former glory. As she joins the cause of the Rebellion, she can make use of her skills as a warrior and an artist to fight back against the Empire and inspire hope in all those suffering under Imperial oppression.
Sabine will have better armor than most Rebel units, and will be highly maneuverable on the battlefield due to her jet-pack! Sabine also comes with four new upgrade cards, allowing players to customize how they want to field her in battle.
The Sabine Wren figure also comes with several options for assembly, including two heads options (helmeted and not), and the option to equip her with dual blasters, or a single blaster and the legendary Darksaber.
We're also getting the perfect counter to Chewbacca, the original Operative option for the rebel faction. Bossk is a legendary bounty hunter, and prizes hunting wookiees as sport!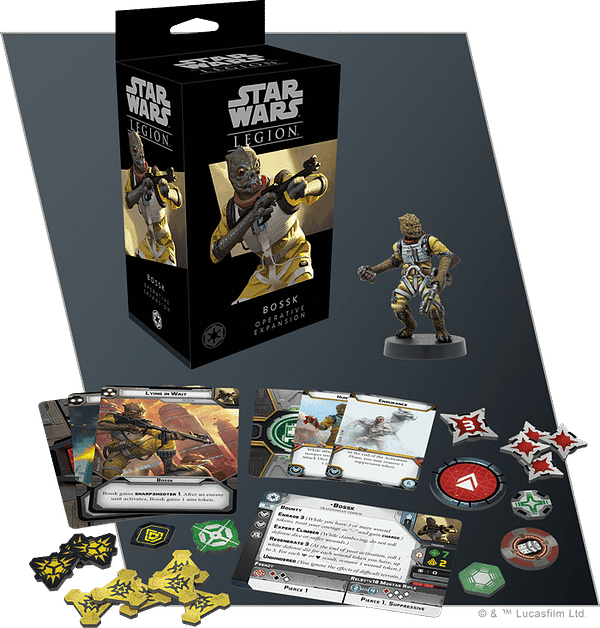 Towering above most other beings, it's not difficult to see how Bossk has gained a reputation as one of the most feared bounty hunters in the galaxy. Even more important to his work than his great height and reptilian features, however, are the natural Trandoshan hunting instincts he uses to track his prey across the galaxy.
First off, that sculpt is freaking amazing! We can't wait to get this guy onto our tables, and seeing him side by side with Boba Fett will be amazing!
Bossk joins Sabine in featuring several assembly options, one with his signature weapon, the other throwing a grenade. He can also scale obstacles, a new ability in Legion! Bossk will also have all new ability cards.
With all of the new troop, command, and operative options inbound from Fantasy Flight Games, this is the time to get into the game. The rules are sharp, the game is easy to pick up, and there's enough troop and character options available to keep repeated games fresh and fun!
The Sabine Wren and Bossk Operative Expansions for Star Wars: Legion should be available for pre-order from your local game shop soon!