SEGA Is Releasing A Game Gear Micro Portable System
One of the most interesting game announcements this week comes from SEGA as they're releasing the Game Gear Micro. The company dropped a trailer for the tiny gaming console a few hours ago in Japan, showing off what is essentially the tiniest portable game player around (unless you're counting the Tamagotchi). The small console comes in four different colors of the classic black look as well as red, blue, and yellow. Each individual player color comes with four different games. So if you buy all four you're getting sixteen titles in all. As you can see from the photos below, it looks just like the original with a few minor little changes. The top of the console now has a micro-USB charging port, so no watch batteries or weird complicated ways to charge or power the thing. The power button and volume dial have stayed the same, as well as the 3.5mm audio jack. In case you need a bigger screen, which of course you will, they're also selling a Micro Big Window, which looks like the original version which was designed to make the screen look bigger. So basically instead of a watch face, it'll look like an Apple Watch face.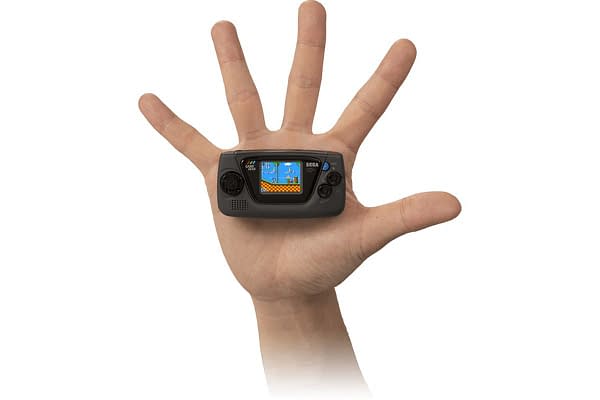 As far as the games go, the breakdown goes like this: The black version will have Sonic The Hedgehog, Puyo Puyotsu, Outrun, and Royal Stone. The blue version will have Sonic & Tales, Gunstar Heroes, Sylvan Tail, and Bakubaku Animal: World Zookeeper Championship. The yellow version will have Shining Force Gaiden 1 & 2, Shining Force Gaiden: Final Conflict, and Nazopuyo Aruru's Roux. Finally, the red version will come with Megami Tensei Gaiden: Last Bible, Megami Tensei Gaiden: Last Bible Special, The GG Shinobi, and Columns. As far as getting your hands on one, so far the plan is to only have these be released in Japan. At least, all indications of it show there will be no import version (yet). Each one will run you ¥4,980, or $45. Yes, $45 EACH! Not counting shipping, that's $180 for all four. All four will be released in Japan on October 6th, 2020.