Dotemu, Lizardcube, and Guard Crush Games revealed today the talent they'll be working with for the Streets Of Rage 4 soundtrack. Five individuals were picked to work on the soundtrack, as the company will be working with Yūzō Koshiro, Motohiro Kawashima, Yoko Shimomura, Hideki Naganuma, and Keiji Yamagishi. If those names don't sound familiar, we have their credits below from the announcement made earlier today. But in short, they're some of the most talented game soundtrack composers you'll find working today, along with all their previous work on some classic titles. If anything, their inclusion is going to make Streets Of Rage 4 amazing. You can also check out the announcement video below.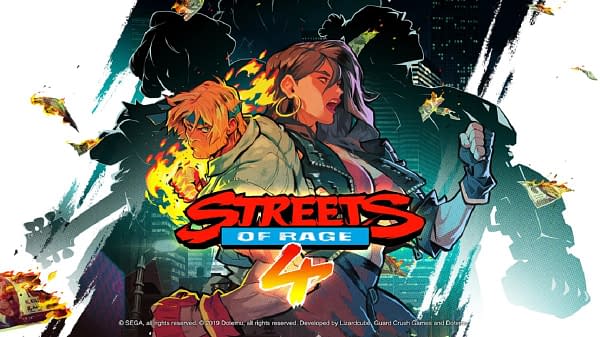 Thanks to the help of Brave Wave Productions, a music label that brings the work of Japanese game musicians to global audiences, Streets of Rage 4 will feature original music from:

Yūzō Koshiro (Streets of Rage 1, 2 & 3, Ys I & II, Sonic the Hedgehog, The Revenge Shinobi, Shenmue I & II, Super Smash Bros. Brawl for 3DS and Wii U & Ultimate, ActRaiser 1 & 2)

Motohiro Kawashima (Streets of Rage 2 & 3, Shinobi II, Batman Returns)

Yoko Shimomura (Street Fighter II: The World Warrior, Kingdom Hearts I, II & III, Super Mario RPG, Legend of Mana, Parasite Eve)

Hideki Naganuma (Jet Set Radio & Future, Super Monkey Ball, Sega Rally 2)

Keiji Yamagishi (Ninja Gaiden, Tecmo Bowl, Captain Tsubasa)

"Among these names stand some of the most legendary and memorable musical architects in video game history," said Cyrille Imbert, executive producer of Streets of Rage 4. "Since we first announced the title last fall, fans have been asking who will be involved in the game's soundtrack as it is a vital element to the Streets of Rage games. We are thrilled to confirm this world-class lineup of musical talent for Streets of Rage 4."
Enjoyed this article? Share it!