Bandai Namco has announced that three new characters will be coming to the arcade version of Tekken 7, but not necessarily the ones you might have been expecting. They will be Hikari Miyamoto, Allison Snow, and Chisato Shinjo from A Summer Lesson, and they will be costumes instead of fully added characters. Basically, they'll be able to look like the specific characters but will retain the fighting style and voice lines of whoever they take over. On top of that, all three women will be floating shoulder characters that can be equipped to whoever you want to fight as, just in case you'd like to have Allison looking over your shoulder and cheering you on your way to victory as you fight with Paul Phoenix.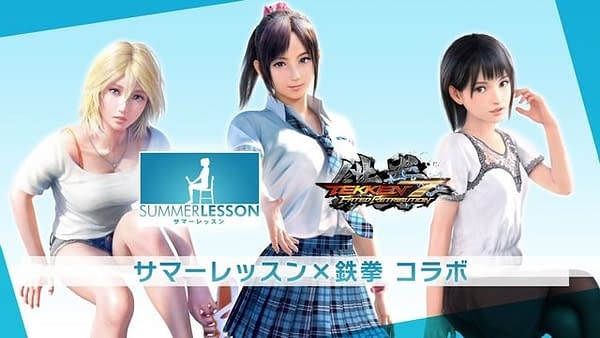 It isn't what we would call the worst additions to be made to a fighting game, but as far as collaborations go, it isn't exactly the greatest either. It's basically just a cosmetic addition to the game for you to play with in case you enjoyed A Summer Lesson. Those of you interesting in checking it out, the new costumes and equipment will be added to the arcade version at 10am JST on April 4th.
Enjoyed this article? Share it!