Terry Bogart Finally Receives His King Of Fighters XV Trailer
SNK released a brand new trailer overnight for The King Of Fighters XV, finally giving us a look at the iconic series character Terry Bogart. The company has slowly been revealing characters week by week, the most recent, which you can watch below, being Yuri Zakazaki and Andy Bogard, as they continue to reveal and build up the different teams in the game. Rounding out Team Fatal Fury (along with Andy and Joe Higashi) is series mainstay Terry, voiced by Takashi Kondo. That team should be a familiar sight to fans of the franchise as the three tend to be together through a lot of the events that come up as every game has come along. So it isn't that great of a shock that in a game where the devs are lumping everyone into teams of three that they would all be on the same side.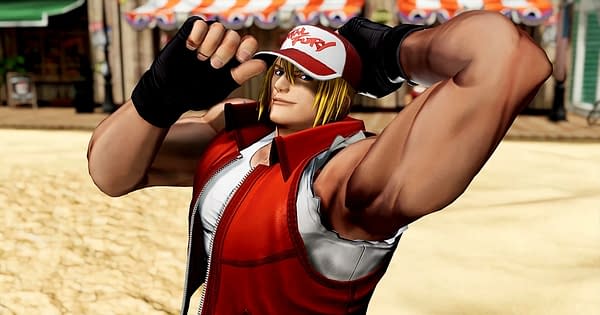 As far as Terry himself goes, this is basically a showcase of everything people love about the character with a ton of easter eggs in roughly two minutes of trailer time. His outfit, the stage, his moveset—this might as well be a tribute to the character's legacy throughout the entire King Of Fighters series. But this isn't just a throwback festival for fan service, as Terry has learned a few new tricks for the game that will keep people guessing as to how the character will react to certain moves and counters. We'll see how fans react to him in the days to come as he has definitely been given an upgrade that some will need to relearn. You can enjoy Terry's trailer here along with the other recent reveals, as we wait for SNK to finally give us a release date for The King Of Fighters XV.