Hearthstone is about to get 135 brand new cards added to the game as their latest expansion, The Boomsday Project, officially kicks off in the game. We have the full description from Blizzard here, but as we speak, you can go into the game and grab new sets of cards to add to your hand and attempt to take people down online.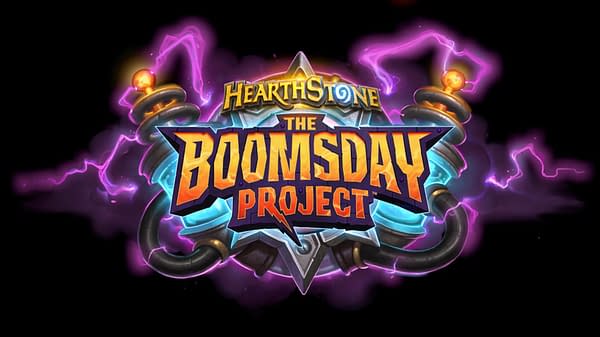 No project is deemed too difficult (or too dangerous) for Dr. Boom and his colorful team of scientists, engineers, and researchers. In The Boomsday Project, players will encounter raw, unfiltered science in the form of irresponsibly powerful Omega cards, which become incredibly potent when played at 10 mana crystals. They'll also be inexplicably attracted to the new Magnetic keyword, which allows Mech minions to merge, combining their attack, health, and abilities to form mind-blowing amalgamations of doom. In addition, unwilling participants will be subjected to Projects, maniacal spells that appear to be mutually beneficial to both parties. And players will surely handle the immensely powerful new Legendary Spells, representing the pinnacle of scientific achievement, in a proper and responsible manner.

"Today, Hearthstone players everywhere can unleash their inner evil genius in The Boomsday Project," said Mike Morhaime, CEO and cofounder of Blizzard Entertainment. "We packed this expansion with all kinds of things that go boom, and we can't wait to see the new strategies that players concoct."

Interns are encouraged to get acquainted with laboratory protocol and emergency procedures, because in two weeks, they'll become responsible for running The Puzzle Lab—the challenging new single-player Hearthstone experience coming to The Boomsday Project. In The Puzzle Lab, players will face a series of increasingly difficult puzzles as they attempt to impress Dr. Boom with their quick wits and neglect of safety regulations. Further details about this brain-bending new game mode will be announced soon.
Enjoyed this article? Share it!