The Next Splatoon 2 Splatfest in Japan Will be Over a Love of Chocolates
It's no secret that the Japanese Splatfests in Splatoon 2 are way different than the ones we get in North America and Europe, but this one has marketing written all over it. The next Splatfest in Japan will put chocolate against chocolate from the same brand as people will be fighting over which brand of Meiji they like the most: Kinoko no Yama or Takenoko no Sato.
If you're not familiar with these, they're both small biscuit treats with a chocolate coating on top. The first one translates to "Mushroom Mountain" while the other is "Bamboo Shoot Village", with both taking on mushroom and bamboo shapes. You can actually buy them around the world at Japanese or Asia-themed grocery stores and they're not too shabby. They basically taste like a Goldfish if you removed the cheese flavoring and replaced it with chocolate.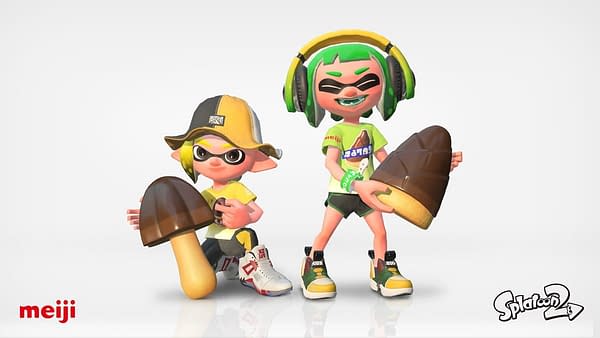 This isn't the first time Meiji paired with Nintendo over a snack war as one of the first Splatfests in Splatoon 2 was over this very same fight, and at the time Kinoko no Yama came out on top. It's a shame we can't take part in it ourselves, but we'll know if things have changed or stayed the same when it kicks off in Japan on August 11th.