"Dead By Daylight" Shows Off New Killer With The Oni
Well, that looks terrifying! Behaviour Interactive dropped a new killer trailer for Dead By Daylight this morning, showing off The Oni. The trailer below shows off only an introduction to the character, as well as a new survivor. The survivor on the boke is named Kimura Yui, and looks like someone you would see racing against time in a future '80s film. Meanwhile, Yamaoka Kazan, better known as The Oni stalks her in a cloud of black smoke. This one looking like a samurai warrior who came back from the grave with a blood-tipped katana. We also know that we're getting a new map with this killer called the Sanctum Of Wrath, which looks a lot like the Spirit's area, but with bigger buildings for people to run around in. This is all part of the next round of content coming December 3rd called the Cursed Legacy. You can enjoy the latest Dead By Daylight trailer below along with this added info from the devs.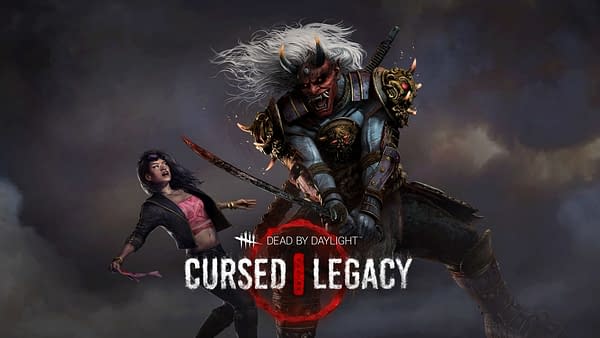 Cursed Legacy is closely linked to Shattered Bloodline, a chapter released in 2018. At the time, players were exploring the tale of the Spirit, Yamaoka Rin, a young girl murdered by her father. The new add-on tells the story of her ancestor, Yamaoka Kazan, a Samurai whose wrath ended up drawing the Entity's attention.

Heir to a famous Japanese swordsmanship school, he sought to surpass his reputation as a warrior by turning his back on honour and family and embarking on a dark pilgrimage of bloodlust. As he waged his personal war against self-proclaimed samurais, he was bestowed with the derogatory and despised nickname of Oni-Yamaoka, a reference to the hideous creature of legend. One day, he met his fate as his former victims took revenge on him. It drew the Entity's attention and he was deemed worthy of joining its world.

The new survivor, Kimura Yui, was one of the youngest motorcyclists to smash records in unsanctioned street races and the very prestigious Moto Grand Prix of Japan. Breaking with tradition and against her parents' wishes, she left her home to pursue her dreams and led a gang helping women in troubled situations. Until she found herself shanghaied into another endless race where crossing the finish line is a matter of life and death.