Kalypso Media revealed today that they have released a new Spitter DLC pack for their city-building simulator, Tropico 6. The DLC keeps up with the dark humor by adding a new fame feature called Spitter, which is their nation-created social media parody of Twitter. Known as " the only social media app approved for use in Tropico", you can make a name for yourself through interactions with faction leaders, courtships with influencers, and connections with celebrities. Much like we all try to do in real life, but with the added twist of gaining influence over a nation you already rule. You can also build new attractions such as the Rehab Center and the Beauty Farm, which will help ensure your citizens and visitors have everything they need. We have more details of the Tropico 6 DLC for you below, along with the new trailer showing it off as you can download it today.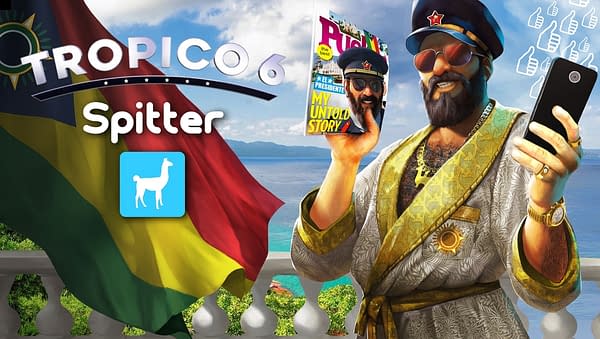 At the heart of Spitter DLC is the new Spitter mechanic, which allows players to interact with celebrities and faction leaders via social media to increase their social standing. Use new buildings such as the Rehab Center or Beauty Farm to attract celebrities and make them permanent citizens of Tropico. Plus, enjoy even more content with three additional music tracks, more customization items and a new trait for El Prez.

Spitter social media feature: interact with superstars and faction leaders via a social app to increase your standing and unlock new traits for celebrities
New mission and sandbox map
3 new buildings: lure celebrities to Tropico by building a Rehab Center or Beauty Farm, or assist in their decision to become permanent residents using the Super Villa
New trait: Narcissist
3 new audio tracks including: 'Comercio Feliz', 'La Celebridad' and 'Fiesta en el Club'
5 new customization options for El Prez and his palace
Enjoyed this article? Share it!