During today's Nintendo Treehouse livestream, WB Games and WayForward revealed their new game Bakugan: Champions Of Vestroia. The game is an expansion on the Bakugan IP, which will center around an all-new original story and feature the brawls we know and love from the series. You will befriend powerful Bakugan creatures and customize your teams in head-to-head battles that are both strategic and fierce. You can watch the full Treehouse presentation that starts at 1:08:30 here, as well as check out screenshots, a trailer, and quotes from everyone involved below. The game will be released on November 3rd, 2020 as a Nintendo Switch exclusive. What's more, a physical Deluxe Edition pack featuring the video game, an exclusive Ultima Dragonoid toy (that transforms into a fierce Bakugan), an Ultima Dragonoid trading card, an Ultima Dragonoid metal gate card, and two powerful BakuCores will also be released in November.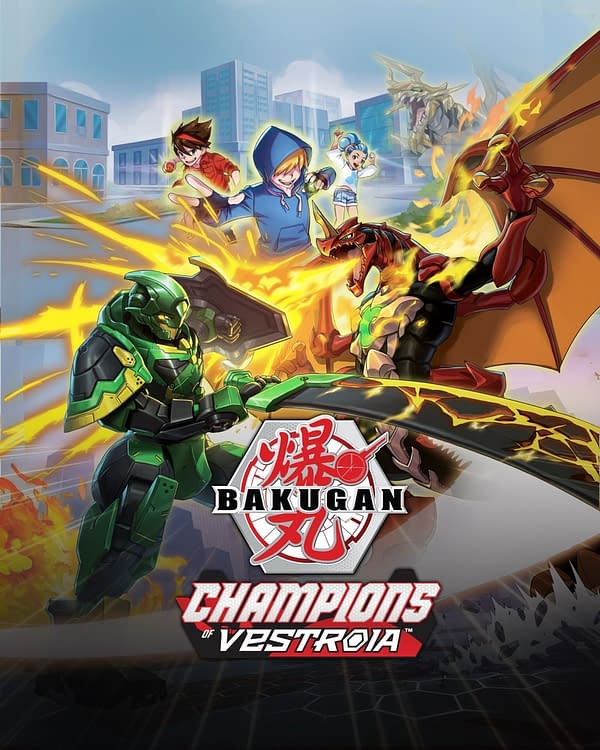 "We're pleased to partner with Spin Master and WayForward to bring the brawling action of Bakugan: Champions of Vestroia to Nintendo Switch," said Kevin Kebodeaux, Senior Vice President, Warner Bros. Interactive Entertainment. "The global popularity of Bakugan is undeniable, and this game is sure to excite players everywhere."

"Bakugan: Champions of Vestroia expands the popular brawling franchise with a new exhilarating, interactive game format with customization, competitive action, deep strategy, and anime-style characters and worlds that all gamers and Bakugan fans will love," said Simonetta Lulli, Vice President, Spin Master Studios. "Whether playing solo or against Bakugan brawlers online, the game offers endless hours of play at home or on the go."

"Bakugan: Champions of Vestroia brings together the most popular aspects of the TV series and toys in an authentic and inspiring new game," said Voldi Way, President & CEO, WayForward. "We designed it specifically for Nintendo Switch with unique battle gameplay and strategic options to build and battle a Bakugan team."
Enjoyed this article? Share it!