We Make Small Games Reveals More Of That Tiny Spaceship
Calgary-based developer We Make Small Games revealed more info on their upcoming game That Tiny Spaceship, along with a trailer. The game was recently included in the Indie Live Expo being held by Playism and Ryu's Office, and with it came a bunch of new info as the game has been quiet for a while. We now know that it will be a single-player space shooter inspired by the coin-op games and early home console games of the '80s. It will come with four missions and a synth-wave soundtrack for people to enjoy. There will be a bunch of original characters who have enrolled in the D.R.O.O.L institute's program to become licensed single-occupancy drone pilots. The game will have a number of visual novel sections meshed with playable missions that explore their struggles, interpersonal relationships and personalities.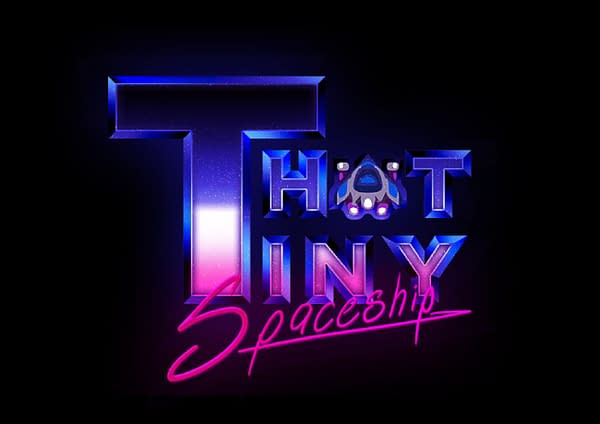 The devs admit that the release has been all over the place, but there is a demo scheduled to be released sometime in the Summer of 2020. Here's some added info on the game and some screenshots, as well as the most recent trailer.
Taking a Cue From Coin-Op – Utilizing tried and true mechanics that helped define the shmup genre, That Tiny Spaceship's gameplay returns to the days where forward was the only way to go and getting a power-up opened up new tactical options. Warp from one side of the playfield to the other, just like in the arcade titles of yesterday.

A Few Seconds Can Feel Like A Lifetime – Each mission in That Tiny Spaceship might only be a couple of minutes long but when a flaming asteroid or enemy fighter comes barreling towards you with little notice, reaction time can make the difference between placing a high score and being another piece of space debris.

5 Levels – Travel from the narrow spaces of an asteroid field to a battle for survival within orbit of a blazing sun in That Tiny Spaceship's 5 campaign missions. Each mission features a unique locale, unique gameplay mechanics and challenges that build upon the foundations established in prior missions.

10+ Achievements – Mastering each of the 5 levels is just the beginning for those looking to obtain all of the achievements in That Tiny Spaceship. Just like console games from the 16-bit era, there's going to be a number of hidden Easter Eggs and challenges if you want to 100% That Tiny Spaceship.

Physics of Fun – Every moving object, hazard, ship and projectile utilizes a built-in physics simulation. While this does not provide the "pixel perfect" accuracy that earlier shoot'em ups made their name on, it provides a unique sense of movement and flow not found in similar games.