Xbox, ESPORTSU, & Paidia Launch Women's Collegiate Esports Series
There's an all-new collegiate esports series for women gamers on the way, as Xbox, ESPORTSU, and Paidia have come together for the effort.
---
This morning, Xbox, Paidia, and ESPORTSU announced a new partnership as they're launching a new competitive collegiate esports series for rising women gamers. The three companies will launch a national collegiate Valorant tournament with colleges competing from across the United States and Canada, with the finals taking place from May 5th-7th at the Collegiate Esports Commissioner's Cup in Texas at the Esports Arena in Arlington. Two different series will also be produced following their efforts; one called Cast This which focuses on developing shoutcasting talent, and the other called Road To CECC which will highlight the events to Texas. We have more info and quotes from all of the companies below on this new event.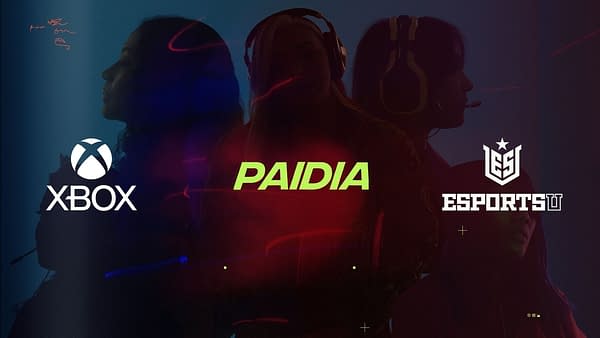 The top national collegiate women players across the continent will compete in a specially created women's qualifying Valorant event, with the winner punching a ticket to CECC Texas on May 5-7, 2023, at the Esports Stadium Arlington. CECC Texas is the largest multi-conference gathering of collegiate esports programs across North America and hosts over 64 teams across various game titles. Collegiate women from all over North America are eligible to compete in the all-women's qualifying tournament being held on PaidiaGaming.com. Additionally, Xbox, ESPORTSU and Paidia have partnered to launch The Paidia Cup: Women's Valorant Matchmaking Season. From February to May, women gamers from across North America will compete, with one matchup to be aired live weekly on ESPORTSU's Twitch channel. The top two teams will receive invitations to compete in a showmatch at CECC Texas, and the winner will be crowned the inaugural Paidia Cup champion. The Paidia Cup spotlights up-and-coming women gamers and highlights the future of women in Valorant.
"We are thrilled to partner with Xbox and Paidia on this important and ground-breaking new initiative," said Jim Connelly, Chief Revenue Officer for CSMG/ESPORTSU. "Together, we will continue to push the boundaries to open doors and make the esports gaming space more inclusive, by shining the spotlight on the incredible talents and skills of women gamers."
"At Paidia our mission is to provide an inclusive and safe place for women and diverse gamers to connect, learn and play," says Jill Kenney, CEO for Paidia Gaming. "Initiatives like this one are paramount to closing the equity gap that has dominated our industry for decades. We couldn't be more excited to partner with Xbox and ESPORTSU to create a series of events and content that celebrates women gamers and the power of positive play."
"At Xbox, we believe that gaming is for everyone, and should be 'Inclusive of all' and 'Accessible to all.' Paidia and ESPORTSU share these same values, which is why this collaboration is such a natural fit," said Katie Schroeder, US Xbox Marketing. "We are proud to be working alongside Paidia and ESPORTSU in their efforts to create an inclusive online gaming community and to empower gamers around the world to do more of what they love – connect to their community through games."