Posted in: Movies | Tagged: film, garth ennis, stitched
---
Actor Kevin Tye Tells Us About The SAS And Working With Garth Ennis On The Film STITCHED Last week, Bleeding Cool told you that Garth Ennis is about to premiere a short film called Stitched at San Diego Comic Con. The film is the first arc of a story that will continue in an ongoing comic book series and a planned feature-length movie. We've talked to Garth, Tank Jones, and Kate Kugler about what's going on with this ambitious project, and now we continue behind the scenes with the actors:
Kevin Tye, who plays the role of "Lynch" in Garth Ennis' STITCHED, has worked in over fifteen independent films, notably THE FRANKENSTEIN SYNDROME with veteran Actor Ed Lauter, Tiffany Shepis, and Louis Mandylor (of MY BIG FAT GREEK WEDDING fame), BLOOD MOON RISING with adult star-turned-actor Ron Jeremy, the upcoming future thriller CRUSHED VELVET starring veteran wrestler Roy Farris ("The Honkey-Tonk Man"), and a newly-announced pilot for the SyFy channel titled H.O.P.E. He is currently part of the alternate-Western web-series WESTERN X, and its spin-off A SIX GUN FOR LOBO. He will be seen as the Archangel Raphael in the upcoming thriller THE NEPHILA, starring opposite DEAD LIKE ME's Ellen Muth.
Keith Davidsen caught up with Kevin to get his perspective on the STITCHED film.
Keith Davidsen: How did you land the role of Lynch?
Kevin Tye: I first heard about the project through a local casting agency here in Arizona. They were looking for British actors who could portray SAS soldiers, and I'm friends with one of the casting directors who told me, "Kevin, when this came in, you were the first person I thought of." As an actor, that's very reassuring!
They told me they wanted a Jason Statham-type character for Lynch, so of course, out came all the Transporter movies for me to watch. I am born and bred from Essex (just outside London, England), and also have a similar working class background to the character, so that helped a lot. I had to hone in my accent a bit for the role. The audition was fairly simple. I will always remember the intense excitement I felt after getting the call that I'd been cast in the film.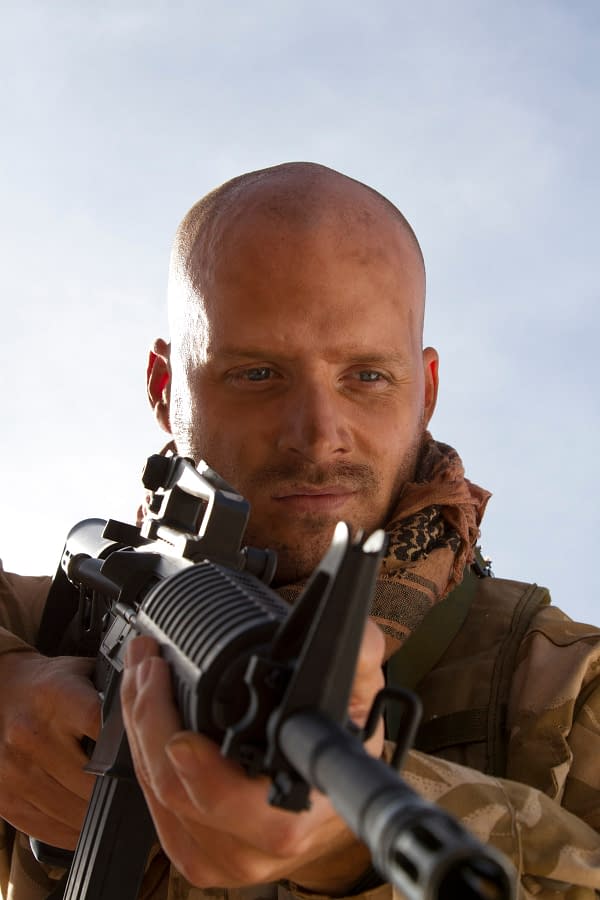 Q: Lynch may not have a lot of screen time in the short film, but as I understand it, the character has been fleshed out extensively. Care to take a shot at defining the role for us?
Well, I always build a deeper background story for my character, even more than what a script gives me, because it helps to understand the objectives of the character you're portraying. This expanded history allows you to portray a role with more of an understanding of who they are, and not just what lines they say. For Lynch, I created his personal life, his upbringing… all the way down to his favorite beer.
Dave Lynch is a guy who works with the SAS, the British military's cream of the crop. He's an extremely focused soldier, a consummate professional with hundreds of hours conducting dangerous operations all over the world. He's seen horrors before, things that people would only see in their worst nightmares, so this gives him more grounding and level-headiness when he and his comrades first encounter the Stitched. From a working class background in London, he trained hard and worked through the British Army before being sent to the SAS. He's tough as nails, but doesn't have a brash "tough guy" attitude, so he's perfectly capable of taking anyone out without them knowing about it first. Dave may perhaps make a joke to lighten the situation – however grim it may be – although getting the job done is the top priority.
Lynch is the confident one within his team of SAS soldiers. He's best mates with Baz, and they have served almost all of their time on the same missions. As best mates do, Lynch and Baz like to joke with each other, but this never gets in the way of the mission or professionalism. He looks up to his captain with furious loyalty; what his superior says, he does without question.
Q: What was the benefit, from an actor's perspective, of working with a director who'd also written the script?
Garth was a wonderful director. He was able to feed the actors with "Seeds of Truth," the key notes on how he saw the actor when writing the story. That's like gold dust for an actor and greatly helps our preparations. He was able to give us some great insight, not only for the story, but in military execution from the British military perspective. From little things like costume, to where each of us belongs in relation to our group's hierarchy, the production benefited greatly from Garth directing. Personally, with Garth hailing from Northern Ireland, and myself from England, we shared a common bond and that helped build a great relationship.
Q: As an actor in a war story, how did you prepare for the role?
I wanted to get the military part as authentic as I could. It goes beyond just having a close-shaved, military-style look. There's a very specific way to handle a gun, a very specific way a soldier would react to things…
I had friends who were in the military back home in England and know how they became very professional people through their training, so I used them as an example to how the training in the British Army makes you a very composed person, without compromising an individual's personality. I also researched British war films like Bravo Two Zero and the acclaimed Dog Soldiers. The latter film chronicles how a group of British soldiers dealt with a supernatural force, so that movie helped greatly because its plot lines are similar to how STITCHED plays out. Q: Can you describe your experience shooting on location in Arizona?
The set was constructed in the middle of the desert, so transporting us to and from the shooting locations became quite fun, as there involved a 20-minute off-road drive deep into the desert. I enjoyed that immensely, and it actually helped get us into character as a type of military transport to and from the "hot zone". There was great care taken to provide the actors with enough fluids and protection from the Arizona elements.
Q: Are you a comic fan? Had you been exposed to Garth Ennis' writing before?
When I was a kid, I used to collect Batman graphic novels, ever since reading Arkham Asylum, but I would say my collection would have been dwarfed even by a low-level fan here in the USA. Americans, of course, have a huge love affair with comics; it's part of the national psyche. Growing up in England, it was always a lot harder to acquire the comics that were otherwise available on every corner here in the States. One group of books that I did get each year as a Christmas gift was an annual Boys War book, which had lots of guy stuff, like WWII stories and other things told in comic form.
As for Garth, I had heard of The Punisher, but not of its writer by name. Of course, when I first entered his name into google for research, I was made immediately aware how big he is in the comic world, and how many legions of fans follow his work. I was fortunate to get a copy of one of his graphic novels after meeting him, and was instantly impressed with his writing style. I definitely became a fan after working with him!
Q: Have you been to comic book conventions before? What do you think of San Diego as the place where STITCHED will have its unveiling?
Comic conventions are a huge deal here in Arizona. This year, I attended the Phoenix Comicon to support a few projects which I've been lucky to be a part of, including STITCHED from Avatar Press, but Phoenix pales into comparison to the mother event of San Diego, of course! I could think of no better place to hold the premiere, and am beyond excited that it will show to all the fans who will attend.
Q: Have you heard about what's in store for Lynch in the ongoing comic book series?
Only nasty rumors! I wasn't given too much of the continuing story of Lynch and the other British soldiers. I know enough that, if something bad is coming, I'd be sure that he would not be going out quietly… whatever happens! I am really excited to see the finished product.
Q: We know that Garth Ennis aims to expand upon STITCHED with a full-length feature film. What are your thoughts on slapping on the gear again?
Just say the word! The entire experience of working on the film was fantastic. It was an immense pleasure bringing the character to life for the short, and I would love to get the opportunity to tell more of Lynch's story in a feature-length film. I think STITCHED has all the qualities of a superb Action/Thriller, and I hope to be a part of any expansion… especially if Lynch gets to kick some more ass!
***
Stitched will premiere at SDCC and the DVD is available for preorder now. You can find out more at www.FearTheStitched.com.
---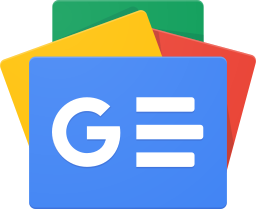 Stay up-to-date and support the site by following Bleeding Cool on Google News today!