Dark Phoenix could, potentially, be the very last Fox-owned X-Men film we get. With the looming possibility of what the Disney/Fox merger could mean for the Marvel properties Fox holds, this is something many fans of the franchise have in the back of their minds. This will also probably be the last time we see the new X-Team played by the current crop of actors and actresses.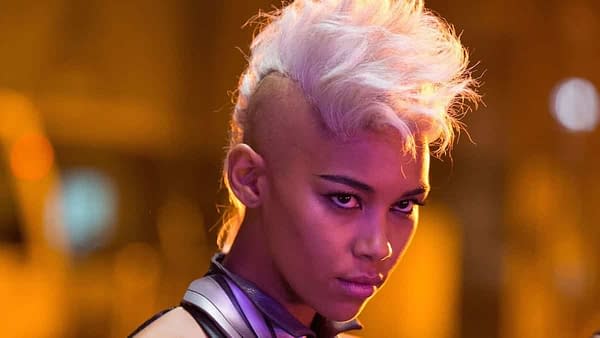 Alexandra Shipp is the second actress to play the live-action role of X-Men team member (and leader) Ororo Munroe, aka Storm. Oscar-winning actress Halle Berry played the role across the first 4 X-Men films, Shipp took over the role in 2016's X-Men: Apocalypse.
During ACE Comic Con Arizona, Shipp took to the stage and spoke a bit about what Storm fans can expect from Dark Phoenix:
"For me, when I first got Apocalypse, I wanted to make it so that you could kind of see a little bit of a continuity throughline between my version of Storm and Halle's version of Storm. And Dark Phoenix is set in the '90s, and so it's a little bit closer to the early 2000s Storm."
Sad to say, we're not getting the return of the mohawk though:
"I just loved the fact that I didn't have to shave my head again, even though I've been dying to shave my head again, you guys. I really liked taking showers and having the water hit my scalp, and how nice that felt… it's so liberating.

And also, it's a total breakdown of your femininity and allows you to show that as a woman, you're not your hair. But I love that we're kind of building that out, especially in Dark Phoenix, and you get to see a more natural side of her."
As to the relationship of Storm to Jean Grey (Sophie Turner) throughout this emotional film, Shipp says "you get to see her kind of taking on that matriarchal role that she has always had."
Director Simon Kinberg and co have had a difficult road getting this adaptation of the Dark Phoenix Saga to the silver screen- two date pushes and a string of reshoots reportedly pushing the budget into the $200 million range.
Dark Phoenix is set to (finally) hit theaters on June 7th, 2019.
Enjoyed this article? Share it!