AMC Shifts Gears From Zombies To The American Revolution In Turn
By Bill Watters

With the end of the year's episodes of Walking Dead, AMC's is bringing us Turn (Sundays at 9pm/8pm central), a new spy drama set during the early years of the Revolutionary War. Having an affinity for historically based shows I'm always thrilled when one comes along. Unfortunately (or not, depending on your preferences), recent attempts have been more about the use of historic names and places with purely fantasy storylines (Da Vinci's Demons, I'm looking at you), so I was looking to Turn to do things a bit more in line with history.
[*Warning: Spoilers for Turn's first episode below!]
After watching the pilot episode, I can say that it does a decent job of taking the viewer into the world of British occupied Long Island. It's autumn of 1776, and George Washington and the rebel armies have been driven from New York City and into the wilderness. Set on loyalist-held Long Island, the scene is set for the characters who are caught between trying to go about their daily lives and two warring armies along with their supporters.
It's with the repeated defeats of the rebels that they are faced with the prospect that they have spies in their midst, and Benjamin Tallmadge (Seth Numrich) works to convince General Washington (Ian Kahn) that they only way to strike back is by developing their own spy network.
And so we find ourselves following farmer and would-be black market smuggler Abe Woodhull (Jamie Bell), pivoting between the abuse of the redcoats on the local populace and his own family in their hunt for rebel supporters, and wanting to not get involved.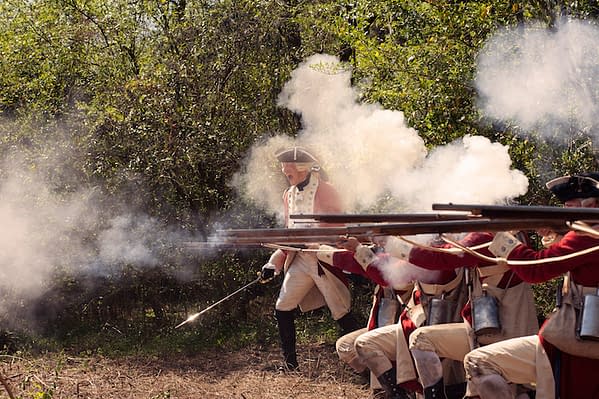 Overall the show's historical elements are decent, though the language is strikingly modern. A few of the supporting characters have some period sounding phrases thrown in for color, but they're few and far between.
We have the royalist dichotomy of approach to the war between Major Hewlett (Burn Gorman), the garrison commander who believes in noblesse oblige and tries to engender goodwill with the colonists, and the mercenary Robert Rogers (Angus MacFadyen), leader of the Queen's Rangers who would leave no house unburned and child alive if he had has way.
The initial episode does a good job of establishing the setting, and introducing the core of characters. The Brits and their allies are shown doing various abuses to the colonists, making sure that the audience knows which side to cheer for (it's one of the things I like about FX's own spy series, The Americans, that there's no cut and dried good and bad guys on either side).
With its cast of skilled but generally lesser-known actors, it should be an easier task to not be distracted with a familiar face pulling focus. However, thus far I haven't found myself getting particularly engaged with the individual characters. Caring about their fates will be paramount in this kind of series, as not as many people will be watching purely for the history lessons (I know, spoiler alert: the rebels eventually win), but to follow the challenges and fates of the cast.
Overall I'd have to suggest that this series is one to give a try (especially if you're a fan of The Americans). There have been few good spy series on television over the decades, and now we have two to watch. Hopefully upcoming character development on TURN will help the audience bond with the series, otherwise it will likely wind up with a small (but I would expect impassioned) niche audience. Bill Watters is an event producer, photographer, reporter, and software engineer living in San Francisco. Currently loving writing about and photographing the national geek and fandom scene as well as the latest happenings on both big and small screen. @BillRW3