New Palm Springs Poster Revealed Ahead Of Next Week's Debut On Hulu
Palm Springs debuted a new poster today, ahead of the film's Hulu debut next week. The film stars Andy Samberg and Cristin Milioti and is directed by Max Barbakow. Samberg, Becky Sloviter, Akiva Schaffer, Jorma Taccone, Dylan Sellers, and Chris Parker are producers through Lonely Island Classics. J.K. Simmons, Meredith Hagner, Camila Mendes, Tyler Hoechlin, and Peter Gallagher also star in Palm Springs. The film is being distributed by Hulu and Neon, which co-acquired the movie for $17 million in January. Check out the trailer below for the new time loop comedy, along with the poster that was released today as well.
Palm Springs Synopsis and Poster
"The existential romantic comedy stars Andy Samberg as Nyles and Cristin Milioti as a reluctant maid of honor who have a chance encounter at a Palm Springs wedding after he rescues her from a disastrous toast. Things get complicated when they find themselves unable to escape the venue, themselves, or each other." The reviews coming out of Sundance were extremely positive, which led to the record purchase price Palm Springs received. With Samberg and Milioti as the stars, that is to be expected, however.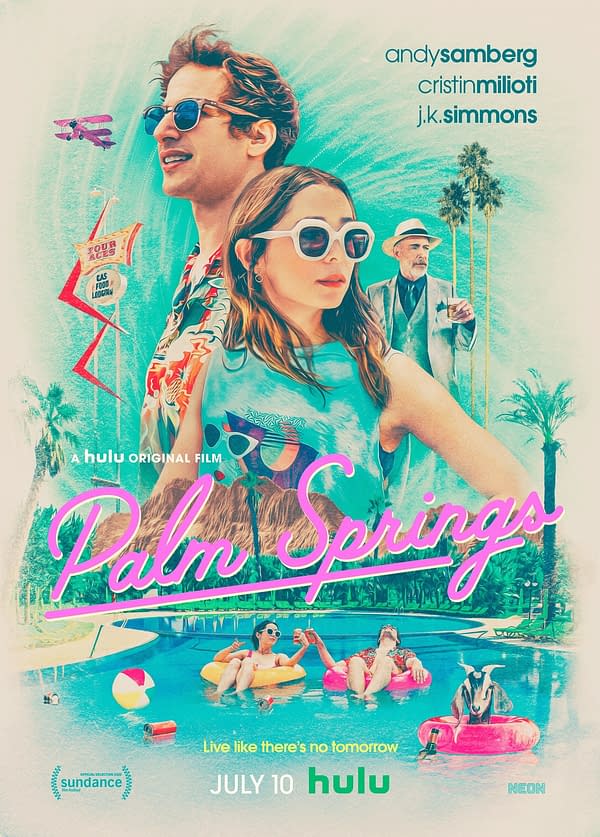 This could be a breakout hit for Hulu. With the lack of films, especially comedy being released right now, a movie like this can make a huge splash right now. Until theaters reopen, people are consuming streaming content like never before, and those films and shows are dominating the conversation on social media. Palm Springs stands a chance of breaking out. It was super smart of Hulu to snatch this film up. There were also reports before that it might see release at some drive-ins, which would also be pretty smart right now. Look for the film on Hulu when it debuts on July 10th.