An Oral History of 'Deadwood: The Movie' from Dan F**kin' Dority (aka W Earl Brown)
Today is the day! The continuation of David Milch-created Shakespearean Western series Deadwood by way of Deadwood: The Movie. 13 years ago, the series was unceremoniously cancelled before getting to end it's tale of the South Dakota mining town denizens. It felt, to fans and cast alike, that the camp candle had been snuffed far too soon for the masterclass of a show in 2006, and it's taken this long for a proper sendoff.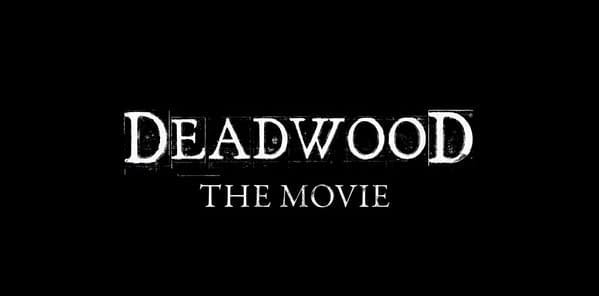 Rumors swirled for awhile that perhaps HBO and Milch would find common ground and do a 2-hour mini series to bring the series closure, but that didn't really happen until a decade later when a film was greenlit. The majority of the remaining cast (minus those we've sadly lost along the way) returned to Deadwood, and the release of the movie is just around the corner (Friday May 31st!).
Needless to say, as a fan of the series during it's original run and one of the countless parties excited for the film, getting the chance to interview a handful of the principal players- like Molly Parker (who played Alma Garrett-Ellsworth), Robin Weigert (who played Calamity Jane), Brad Dourif (who played Doc Cochrane), and W. Earl Brown (who played Dan Dority)- was unreal in the best of ways.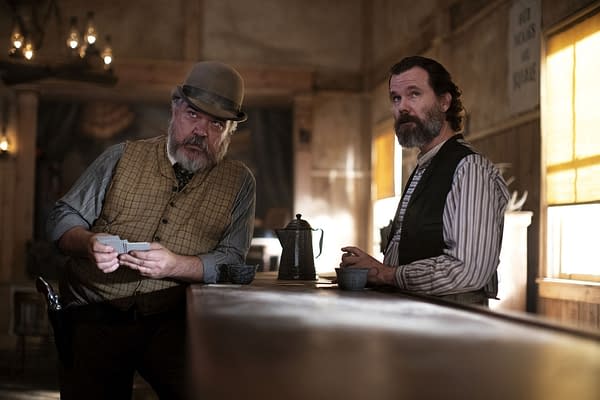 W. Earl Brown is someone I've followed for many years- we've got mutual friends, interests, and I've been a fan of his work. Getting to talk to him, and offering an apology of sorts for being one of the reporters that got him in trouble with HBO by writing about his WONDERFULLY INSIGHTFUL "Dispatches From the Thoroughfare" updates during filming, was a treat.
***
Mab: I've gotta tell you right away, I'm one of those reporters who got you in trouble because of your Dispatches.
Earl: [laughs] Well it was a formal cease and desist policy, but I did put it all back up.
Mab: Everything you said was so exciting! And it was everything we wanted to hear! It was so cool that you gave us that insight.
Earl: I was being very careful not to spoil any production elements. I posted a photo, featuring Ken [Keone Young, who plays Wu], and I think that's probably what did it. Anyway, all the essays got back out there. Thank you though, for taking the time to read them.
Mab: When did all this, this movie, finally seem real to you?
Earl: The chronology was….I was blindsided by the cancellation, I did not see it coming. If there was writing on the wall- I was blissfully unaware, those backstage machinations. David, Greg, Scott, Caroline, they all knew what was going on, but all the rest of us were left unaware. I was desperately trying to keep track of everyone- they say all the horses were out of the barn, I grew up on a farm, *I* can get horses back in the barn because I've done it- keeping track with the yellow note pad next to phone of who was doing what projects, I kept that going for a few years. My memory was it was just a year, but I just discovered with Olyphant that I had written "TIM- LAWMAN, some cop show set in Kentucky", because I'm from Kentucky, and for Anna [Gunn]- "SOME METH SHOW in Abq.", which turned out to be Justified and Breaking Bad. It seemed like, very much, that we were a hit, that we were, and still are, getting an audience. People were coming to the show and box sets and streaming now, there's always a stream of new fans.
David was initially tied to the idea of two movies, and he and I had had lunch a couple of times to discuss the idea, because it was offered to him. "Cut the budget in half, do two movies, tie up the story" but that wasn't what he wanted to do. David made an all in move, and all the cards came out the way we know they came out. So, David tied it into his deal, his renegotiation deal, and this was five years after we were cancelled? This was right before Luck was going to come out, so everyone was focused on that. And THAT deal didn't happen, for whatever myriad of reasons, I don't know. But that's when I gave up, and knew that horse was dead and to stop beating it.
And then, dead horses have a way of rising up out of the grave- I was shooting the pilot for Preacher, which was what, 4 years ago? I called David and left a message with his wife, about something else, and I was up in New Mexico at the 10,000 Days Spa, and I remember when I came down off the mountain that I had a message from Rita Milch. She'd answered the question that I'd asked prior, and said "Listen, we just got off the phone with HBO, and we might return to the thoroughfare."
So, I got choked up, that would have been in April or May of 2015. That's how long it took, to get those horses back in that barn. Hats off to Carolyn Strauss, Greg Feinberg, and Scott Stephens, for putting that fucking schedule together to make it happen.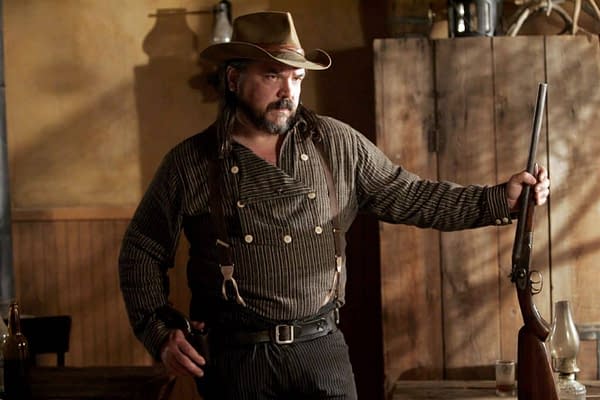 Mab: What was it like to put Dan's hat back on, as it were, after so many years.
Earl: Well, it's a new hat, new suit of clothes, he's all cleaned up, so completely different. The rest of hisself is as familiar as an old worn pair of boots.
Mab: How much of you Earl is in Dan?
Earl: Dave had this way of….Dave is not like anyone else I've ever really encountered. I've met a handful of people with an intellect at that level, a fucking genius . mind, and then i've met these highly spiritual people, who can see you, that have that emotional intelligence, and you rarely see those things coupled together. And layered on top of that with dave is this destructive streak that was a mile fucking wide, his adventures long and varied an dwell publicized. And Dave had this thing about absorbing who you were as a person into the character he was creating. So a big part of me landed in there, filtered through David. So again, slipping back into Dan wasn't difficult. It was those boots, those worn boots that were custom-made to fit your foot perfectly, even though they were 13 years old. That was the genius of David.
There were little things, like EB's sweaty palms? That was Billy [William Sanderson]. I love Billy, he is incredibly bright and talented, but that poor man is just riddled with neuroses. He would get so nervous that his hands would sweat, so David made it part of EB Farnum.
Mab: And coming back in general, after all this time?
Earl: The circumstances have been well reported, with Dave's health, that was a shadow over all of it. Those amongst the crew who were no longer with us, like Ricky. He'd left the show, but Ricky Jay died only a few months before we went into production. Powers [Boothe] had been gone a little over a year, Ralph Richeson [Richardson the cook] before that…it was tempered. And knowing about Dave's health…it wasn't just pure joy, even though yes joy was an absolute part of it.
Look, back in the second to last episode of season 3, when Ellsworth was killed, everyone came to set that day, because we knew Jim was going to be leaving us. We didn't know the axe was hanging over all our heads. We all came to say goodbye to Jim. And Jim came to say hello to everyone on the movie!
And we did get the chance to at least say goodbye to one another 13 years ago. The show just stopped, it didn't end, and there's a difference. So, whether this is the final chapter or not, if there is no more in the future, I could live with it now. Because I could never live with it the way things happened.
***
Thank you again to HBO for facilitating, and to Earl for his time. Expect more tidbits from my interviews after the film releases, because we don't want any spoilers!
You can catch all three seasons of Deadwood on HBO NOW ahead of Deadwood: The Movie hitting the cable channel on Friday May 31st at 8pm.