Ari Aster's 'Midsommar' Debuts Creepy New Trailer
Director Ari Aster's second film Midsommar had debuted its first trailer this afternoon. The director is following up last year's excellent Hereditary, and staying in the realm of cults and paganism. The film stars Florence Pugh and Jack Reynor. Check out the trailer down below!
Pugh and Reynor will play a couple that travels to Sweden to visit their friend's rural hometown for its fabled mid-summer festival. What begins as an idyllic retreat quickly devolves into an increasingly violent and bizarre competition at the hands of a pagan cult.
Oof, this looks even creepier than Hereditary. Brightly lit instead of dark, with extras that don't seem to blink, and more breathing problems and clicking noises, this has all the markings of another unnerving trip to the theater. This gives off a real Wicker Man vibe, the classic version, not the Nic Cage version with the bees. To say horror fans are excited to see Midsommar would be an understatement, with this film Aster can take his place next to Jordan Peele as the new kings of horror.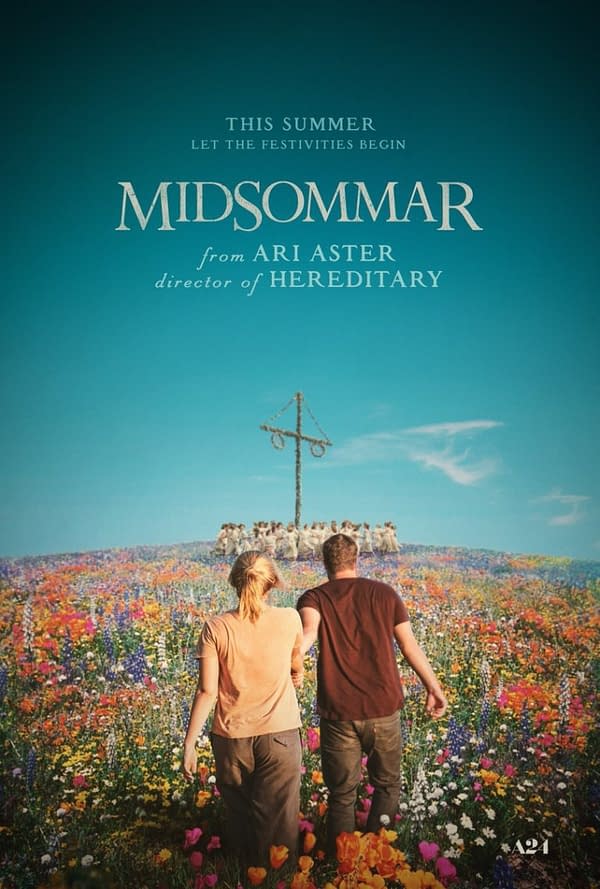 Midsommar, directed by Ari Aster, and starring Jack Reynor, Will Poulter, Florence Pugh, Vilhem Blomgren, William Jackson Harper, Ellora Torchia and Archie Madekwe opens in theaters on August 9th.