Biggest 'Captain Marvel' SPOILER: Brie Larson is Allergic to Cats
Who knew one of the biggest spoilers for Captain Marvel was the fact that star Brie Larson is allergic to one of her co-stars?? Turns out, the Oscar-winning actress is terribly allergic to cats, and one feline in particular plays a pretty big part in the life of Carol Danvers, the human behind Kree warrior Vell (as Annette Bening calls her in a new clip).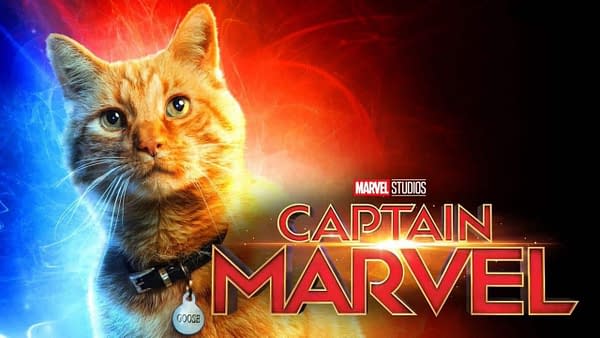 Reggie, who plays Goose in the film, has been a hit with the pre-press for the film, with Marvel Studios going so far as to release a livestream of the furry friend.
Larson revealed in her recent chat with Entertainment Weekly her allergy, as well as the lengths she had to go to during filming. Hint- it was Benadryl. Lots and lots of Benadryl.
EW: Brie, is it true you're allergic to cats?

LARSON: I'm severely allergic. Not just kind of allergic — like, very, very allergic.

JACKSON: Were you Benadryl-ing all day when he was on set?

LARSON: All day. It became this joke because the crew would watch me all day doing crazy stunts. I did that ropes course stunt 50 feet up in the air on the first week. I threw [a stunt person] in a judo throw on a moving train, day two. But then the cat showed up on set and I was like, "We need to have a plan! We need to have a conversation!" I see cat hair flying, [and] I've got maybe 10 minutes before I break out in hives.
And as to how co-star Samuel L. Jackson dealt with Reggie:
JACKSON: Fine! All those things are snack-oriented. You give them a snack, you talk to them in a relatively kind tone, and give them another snack when it's over. Next time they see you, it's like, "Oh, that's the dude with the snacks!"

LARSON: I mean, that's basically how I work, too.
The first "public" screening of Captain Marvel happened in Los Angeles and so far, the reactions are overwhelmingly positive. Everyone loves Goose the cat, everyone loves Ben Mendelsohn, and everyone LOVES Brie Larson as the good Captain. (You can read about the first reactions here.)
Anna Boden (first female director for Marvel Studios, only took 21 films) and Ryan Fleck are directing from a script they wrote with Liz Flahive, Carly Mensch, Meg LeFauve, Nicole Perlman, and Geneva Robertson-Dworet.
Captain Marvel stars Oscar winner Brie Larson as Carol Danvers, Samuel L. Jackson as Nick Fury, Jude Law as the commander of Starforce (who may or may not have two names), Clark Gregg as Phil Coulson, Lee Pace returning as Ronan the Accuser, Djimon Hounsou as Korath the Pursuer, Gemma Chan as Minn-Erva, Ben Mendelsohn as Skull Commander Talos, Lashana Lynch as Maria Rambeau, Algenis Perez Soto, McKenna Grace, and Annette Bening in as-yet-undisclosed roles.
Captain Marvel is set to hit theaters on March 8th 2019 (International Women's Day), and tickets are on sale now.