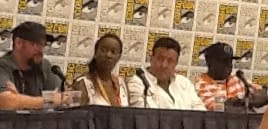 The Dark Horse Comics panel has been running through a lot of their current and future projects at San Diego Comic Con, and we can expect a panel report from Keysha Couzens later in the show.
But one quote stuck out about Tony Puryear and Erika Alexander talking about pitching a science fiction film which had a number of black people. They were told by a studio executive that he could save them all time, by changing the race of the black characters. Because, as Tony quoted him, "black people don't like science fiction – they don't see themselves in the future."
Tony pointed out the irony, after both of them working on Will Smith and Denzel Washington sci-fi projects, but that the Dark Horse Comics series Concrete Park was a direct result of that conversation…
Enjoyed this article? Share it!