During Profiles In History's auction today a prop blaster from Blade Runner and Snake Plissken's MAC-10 came up.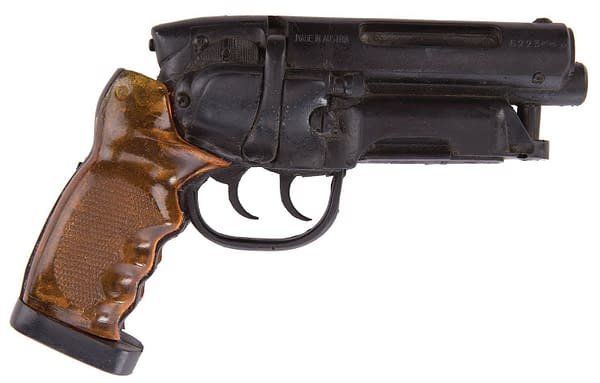 The blaster, of course, is iconic — Harrison Ford's character Rick Deckard uses it to retire replicants past their shelf life. It went for $41,100 (USD).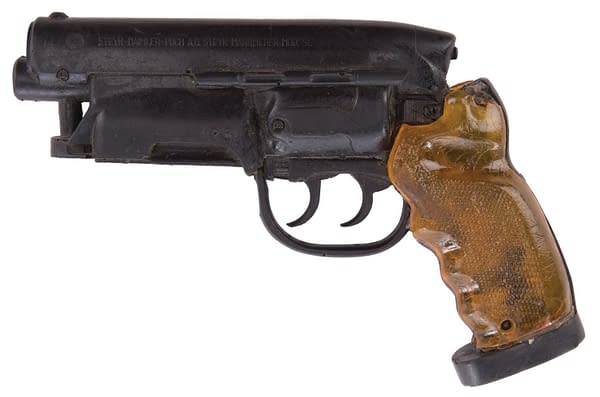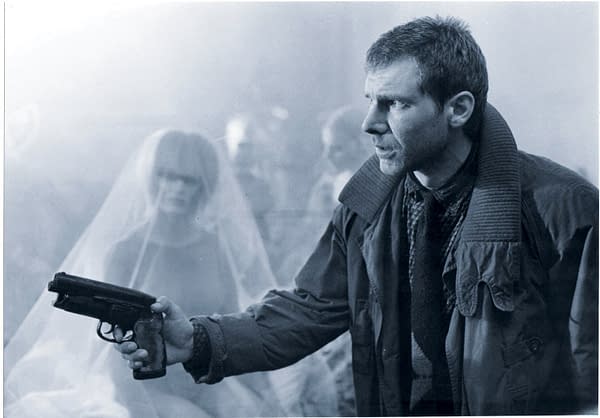 The listing for the item read:
960. Harrison Ford "Rick Deckard" prop blaster from Blade Runner. (Warner Bros., 1982) Vintage original futuristic LAPD blaster handgun constructed of cast, skinned polyfoam over internal metal reinforcing armature. With transparent amber cast resin grips affixed to each side of the handle. This soft stunt prop gun was expertly assembled and finished to appear as identical to the hero prop as possible. Uniquely designed for production, this iconic handgun has been referred to as "The PKD" for Pflager Katsumata Series-D, to mirror the initials of writer Philip K. Dick, "2019 Detective Special", "M2019 Blaster", or "LAPD 2019 Blaster". The hero prop was assembled from a conglomeration of parts of a Steyr Mannlicher .222 Model SL and a Charter Arms Bulldog revolver. Side covers were added to mask the Bulldog's cylinder and bolt and screw heads were used to represent knobs and controls. This prop gun exhibits minor age and wear with a small chip to the upper left of the resin grip. The gun remains in vintage very good condition. $15,000 – $20,000
Kurt Russell's Snake Plissken MAC-10 is another one of those iconic weapons from classic '80s sci-fi films, albeit with a decidedly more realistic grounding. It sold for $20,480 (USD).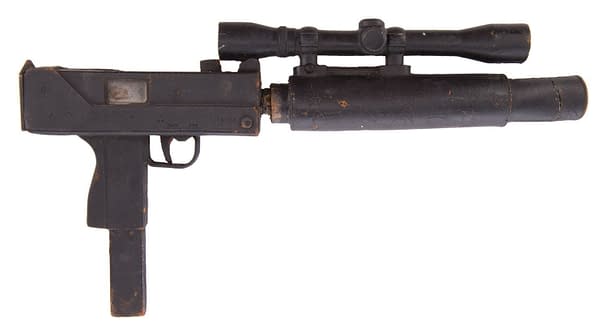 946. Kurt Russell "Snake Plissken" MAC-10 prop machine gun from Escape from New York. (Embassy, 1981) Vintage original MAC-10 machine gun stunt prop. Constructed of cast polyfoam over internal supporting metal rod armature with a metal plate at the butt. The 21 x 12 in. prop features a rifle scope mounted onto a sound suppressor and integral magazine. Expertly studio painted and finished to appear as a real weapon. Maker's inscription transferred from the casting reads, "M10. CAL 9MM PAR / RPB Industries, INC. / Atlanta, GA. U. S. A." and "91572" at end of barrel. Exhibiting age, wear and some surface crazing. In vintage very good condition. $4,000 – $6,000
Enjoyed this article? Share it!