'Iron Man' 10 Years Later- Bleeding Cool Looks Back at First MCU Film
The first film in the yet-to-be-established Marvel Cinematic Universe Iron Man released on May 2nd 2008, 10 years ago today in fact. While maybe it's not the most impressive anniversary in the world, it *is* one to discuss, especially considering what flick just broke the biggest opening weekend box office record.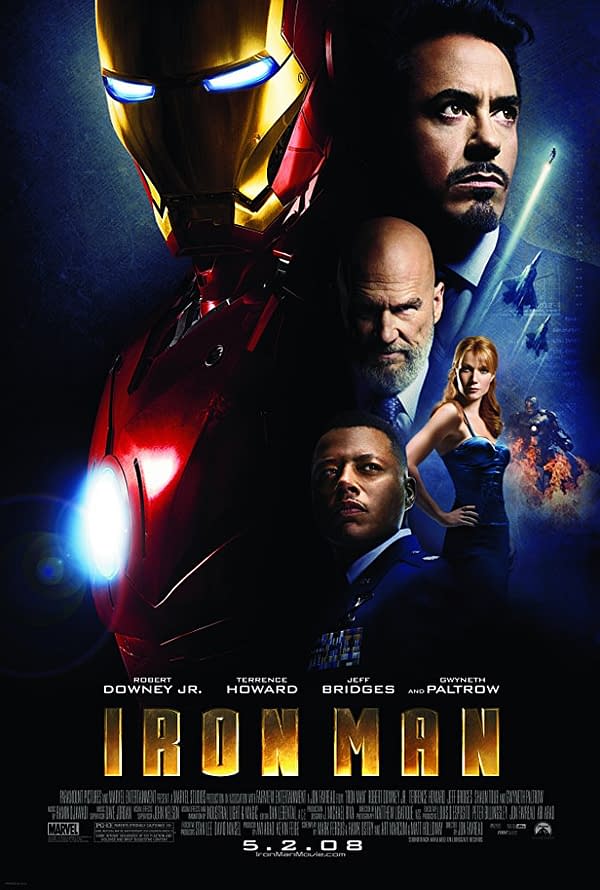 Bleeding Cool decided to pool our thoughts and memories (much like we did for LV-426 and Superman's 80th birthday) to talk about Jon Favreau's first Iron Man film starring Robert Downy Jr. (which is it's own story really, the casting of RDJr).
For reference, here's the first theatrical trailer:
Mark says:
It's almost impossible to remember how unlikely the success of the MCU seemed before the release of Iron Man in 2008. If you'd have told people that Guardians of the Galaxy would not only be a monster hit, but a monster franchise, or that Black Panther would become one of the highest grossing films of all time, they'd have laughed in your face.

There was a long list of reasons to be skeptical about the success of Iron Man in 2008. The fallout from Marvel's 1996 bankruptcy and scattershot film licensing strategy was still fresh in mind. Despite the success of Fox's X-Men in 2000 and Sony's Spider-Man in 2002, fans had plenty of reason to think such successes hits would be few and far between. Warner Bros' DC Comics films had run hot and cold for decades, and they had the advantage of being part of a giant media company with its own film studio. Disasters like the unreleased 1994 Roger Corman Fantastic Four movie were still fresh in fandom's memories. We'd get our hopes up with something like Blade, only to have them dashed when someone decided to put Galactus in a movie… as a cloud.

But the spotty modern history of Marvel Comics movies up to that point was only part of the reason to be skeptical of Marvel's future movie success in 2008. Looming larger in the minds of many was the notion that a company which had been under bankruptcy protection little more than a decade prior, was borrowing half a billion dollars from Merrill Lynch, forming its own studio, and would be making films on its own — without access to their two most successful Franchises in X-Men and Spider-Man. And launching with a lead actor who was then best known for his string of high profile arrests for substance abuse, culminating in an infamous incident during which police picked him up wandering barefoot in Culver City, California.

It all seemed like a horrible idea.

It's also a textbook case of fortune favoring the bold. Ten minutes into the Iron Man film, you could see that they'd gotten it right. They'd nailed it, and have kept on doing that over the next decade.
Kaitlyn says:
Ten years ago I has virtually no interest in seeing Iron Man. I was way more excited for The Dark Knight than Iron Man. In fact I'm not even sure it was on my radar. However, a friend of mine in college really wanted to see the movie and this was way after it came out. We went to a dollar theater and I remember being very surprised how many people were still in the theater despite it being out for so long. I remember really enjoying the movie and we didn't even stay until after the credits because I don't think either of us knew. However, as soon as the movie came out, I began to learn more about the Marvel universe and the Avengers. By the time Iron Man 2 came out I was entirely invested in the universe and the series. It helped kick off my love for Marvel comics which I had only fleeting interest in then. It didn't hit me when I saw the movie, at the time, how much it would change me. I didn't know getting into comics and geek media would lead to me getting the amazing job I have today. It all started in that dollar theater my friend in college dragged me to.
Jeremy says:
I actually had no desire to see Iron Man when it came out. I bought some of the toys, but I was sad Tom Cruise didn't get the part (I know, I know) and wasn't won over by the trailers. I got screening passes from my local comic shop, and was blown away. I couldn't have been more wrong, and at the time thought Iron Monger was an amazing movie villain (oof, that didn't really hold up did it). They however did not show us the after-credits scene, saying it was a surprise. So, I saw it again opening weekend, and after the credits rolled and Sam Jackson appeared, I instantly knew what he was going to say. The journey Jon Favreau and Kevin Feige sent us on that fateful weekend has made up for the fact that I was born the year after Return of the Jedi came out in theaters. That it started with RDJ and ole shell-head just makes it all the more improbable. Make Mine Marvel, forever.
Madeline says:
I don't think I was quite prepared for what I was getting into walking in the theater. My two friends were excited to see the movie- one because he knew the comics a bit, and the other because she liked action movies. I was mostly there because the trailer included Black Sabbath. The movie's soundtrack was definitely my primary interest, but I was pretty spellbound by about the first twenty minutes. I wasn't new to super heroes, and had been exposed to Marvel before. I'd seen the Spider-Man movies, and the X-Men films, but I was a DC girl. I grew up with the DCAU so Iron Man was a bit of a revelation. A superhero with deep personal flaws, who enjoyed what he did, but still brooded about it. That was new and exciting. I was pretty much hooked. I didn't know it then, but walking out of that theater- the pure excitement and desire to explore more of that world- would drag me into Marvel comics pretty quickly. Especially once a friend mentioned Cable and Deadpool as recommended reading. And while I've gotten to be a bit bitter about the MCU as a whole (Avenger fatigue hit me hard by the end of Phase 2), I still wait for that exhilaration at the end of the movies- that moment where the world feels a little more colorful.
Josh says:
I was too young to know much about RDJ, but I do remember hating Iron Man because of Marvel's Civil War event which had just wrapped up. I was very excited about the idea of the MCU, but I didn't think we were even going to make it to the Avengers back then, let alone where we are now.

["And now?" I asked him]

I'm way more into Iron Man now, and RDJ's depiction of the character actually helped with that a lot. I still prefer Captain America in that conflict, but I don't hate Tony anymore
Jude says:
I don't remember watching Iron Man. I think I probably waited until it was out on DVD. Iron Man kinda sucked as a character, and it was only Robert Downey Jr.'s personality that made it work.
Lauren says:
I remember when I saw the first trailer, I got goosebumps. I read Iron Man comics here and there, but I never thought he would ever get his own movie. I got tickets for opening day, and it blew me away. RDJ was born for this role, and I enjoyed the hell out of the film!
Dan says:
Iron Man is the first film I remember seeing in a theater twice. I saw it opening weekend with my wife, but then went to Seattle for Emerald City Con. Got set up the night before and had time to kill. There was a theater across from the convention center where Tone Rodriguez and I decided to catch it again. Got into the theater to find it filled with other comic creators and fans. There is nothing like seeing the movie with people who have loved Iron Man their whole life. When we first got to see Tony in the armor and the Black Sabbath song was playing… the entire audience cheered. It was an amazing event that made the 11-year old Dan blissfully happy.
Bill says:
I went into the theater to see Iron Man, not because of any excitement about an MCU (we'd no idea about any such thing), it was because I'd been a longtime fan of RDJ – from when he saved the Ally McBeal series from an early demise, and then the wonderful but horribly underrated and under-seen Kiss Kiss Bang Bang. We'd had a not irregular flow of superhero-related films, so another one would be a fun enough way to spend a few hours, but then the brilliance of their casting became clear. It was less a film about Iron Man, and infinitely more about Tony Stark, and I loved it. The idea to have the end scene hooking him into an ongoing narrative was brilliant, and really things haven't been the same ever since.
Adi says:
The first Iron Man movie came out in 2008, the same summer that saw Christopher Nolan's Dark Knight, and the two movies defined the next decade of superhero movies almost in the same way Frank Miller's The Dark Knight Returns and Alan Moore's Watchmen ended up defining the next 30 years of superhero comics. Both movies were the most financially successful expressions of post-9/11 anxiety in different ways. Where The Dark Knight was an expression of domestic paranoia in America, Iron Man was an allegory for American interventionionism in the Middle East.

What sold that pill was the breezy light humour of the movie as embodied by Robert Downey Jr.'s charisma and talent for ad-libbing. Jon Favreau encouraged the moments of banter and improvisation between Downey and the actors he interacted with to create a sense of authentic human levity and emotion under all the standard superhero hi-tech plot movements. That also established the veneer of light humour that all the Marvel movies have employed ever since that helped make them box office hits.

Audiences warmed to the characters and their humour even when the most bombastic and dire explosions were happening around them. What also struck me most about the first Iron Man movie was also the rehabilitation of Robert Downey Jr.'s career. He was almost finished after years of drug addiction and run-ins with the law, and this was his last-chance saloon. Everyone loves a redemption story, and Downey turned Tony Stark's awakening and redemption into a fictionalised version of his personal turnaround. The Iron Man movie became a stark flip-side to what happened to Heath Ledger on Dark Knight where he turned in a brilliant, intense and largely improvised performance as the Joker, only to die of a drug overdose in real life. By that strange coincidence, both Iron Man and The Dark Knight became stark contrasts to each other in so many unexpected ways.
Mab says:
I remember going to see it opening weekend with my crew (of which I was pretty much the only girl, aside from a rotating cast of girlfriends that never stuck around) of hardcore comic book and movie buddies. We actually skipped out of a rehearsal for a play that night to see it, I remember that part. We were mostly curious, knowing Tony from the funny papers and the Saturday morning cartoons, at how he'd do as a starring character. I remember when the film was over and we invaded our local Denny's, we couldn't stop talking about how good RDJr was, how fun it was, and how we'd love to see other Marvel characters get similar films.

You have to remember at this point we were already super done with the X-Men movies, which to us never really GOT what made those characters work during this time, Blade– which did but then didn't and then did again, the Raimi Spider-Man movies which were pretty great all things considered, those Fantastic Four movies we try to forget, and we'd suffered through Ang Lee's The Hulk.

But after Iron Man, we were excited for me. Sure, you can roll your eyes at me and say "you're just saying this now because you know what came next", but honestly, we had no idea what was coming, and were happy to see a new take on a character we thought we knew. Does it hold up 10 years later? It does, and that is pretty much all on Favreau. He knew to let RDJr BE RDJr, to let the character build and breathe.
10 years later, Downy Jr. is the leading man in a large collection of leading men, giving a speech before the world premiere of the 19th MCU film, which is currently setting box office records and is in theaters now.