IFC FIlms Purchases Leslie Mann, Dan Stevens Comedy Blithe Spirit
Blithe Spirit, a new comedy film starring Leslie Mann, Dan Stevens, Isla Fisher, Julian Rhind-Tutt, Emilia Fox, Adil Ray, James Fleet, and Judi Dench, has been picked up by IFC Films. Edward Hall (Downton Abbey) directs a script written by Nick Moorcroft, Meg Leonard, and Piers Ashworth, which is based on the play of the same name by Noel Coward. Blithe Spirit features a pretty unique set-up and should be a hit whenever it happens to be released. Deadline were the ones to break the news. Check out the synopsis and trailer for the film below.
Blithe Spirit Synopsis
"Blithe Spirit follows best-selling crime novelist Charles (Stevens) who is finishing his first screenplay but is suffering from a terrible case of writer's block. His picture-perfect new wife Ruth (Isla Fisher) is doing her best to keep him focused so they can fulfill her dream of leaving London for Hollywood. Charles' quest for inspiration leads him to invite the eccentric mystic Madame Arcati (Dench) to perform a séance in his home. He gets more than he bargained for when Madame Acarti inadvertently summons the spirit of his first wife: the brilliant and fiery Elvira (Mann). Ready to pick up her life right where she left off, Elvira is shocked to discover the prim and proper Ruth is now married to her husband and running her household. Charles finds himself stuck between his two wives and their increasingly over-the-top attempts to outdo one another."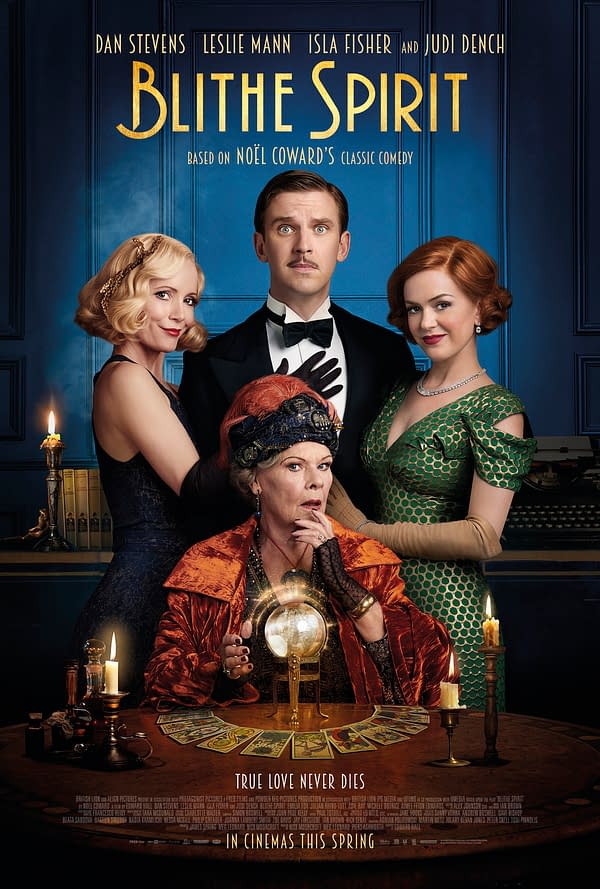 This looks like so much fun. I would expect this to be a sleeper hit; however, IFC decides to release Blithe Spirit. Hopefully, it gets a theatrical release, as I imagine this would be a fun watch with a crowd.