Eurovision Song Contest Review: Funny, Raunchy & Still Parent Friendly
I know we're all appropriately gutted that Eurovision 2020 got disrupted by the pandemic, but oddly enough, Netflix of all people has us fans covered. Well, sort of. Is Eurovision back? Not until next year, but there is a new movie out about, you guessed it, Eurovision, and on Netflix right now called Eurovision Song Contest: The Story of Fire Saga. Rachel McAdams and Will Ferrell star as Fire Saga, the Icelandic duo with big dreams of winning the song contest. The only catch is their kind of a joke – a joke that ends up competing for their country's dignity on the global stage (well, not including America, because screw those guys – it's Eurovision, not America-vision).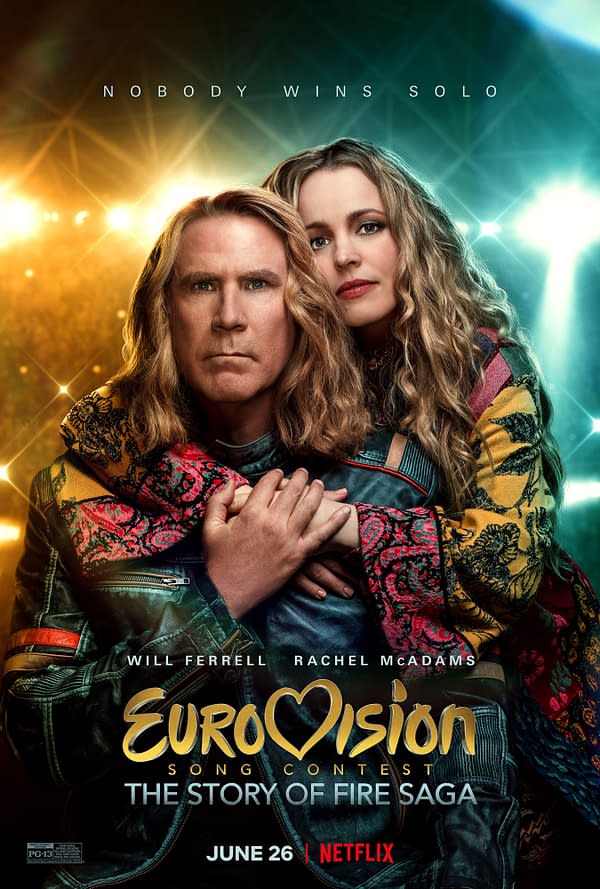 The Movie Delivers Musical Eurovision Perfection
Now, you may remember Iceland as the country that brought us ABBA back in 1974 (shout out to Waterloo), but in recent years they're known as more of a wildcard. Last year, they brought Hatari to the stage, and this year's chosen contestant was the equally head-turning Daði og Gagnamagnið; Iceland's fictional choice is no exception to this trend. Fire Saga is strange yet loveable, comprised of Lars, the ambitious but not quite so talented, and Sigrit, who's super talented but hopelessly in love with Lars. Their music is synthesizer-heavy and a little different, but overall comedic and a distinctly "Eurovision" sound.
If you played this song for me and told me to guess what it is, I'd immediately clock it as a part of Eurovision. All of the songs in the film are like that – they're recognizable as being from the song contest. However, they're still a little silly, mostly because we're still in a Netflix movie poking fun at how ridiculous Eurovision songs and performances can get.
Songs aside, the comedy is deadpan absurdist, very much like Blades of Glory meets Pitch Perfect, which is an odd but fitting description, though I would say it's not quite as crass as Ferrell's figure skating sausage-fest (which is a good thing). The film is PG-13 as opposed to R, which helps Ferrell's comedy style immensely, in my opinion. His movies tend to err on the wrong side of "too much" when it comes to raunchy jokes; dialed back to where things are in Eurovision, this feels like the perfect amount. There's still some ding dong jokes in there, but they're tasteful and appropriate feeling.
Eurovision Easter Eggs Aplenty
Oh, in case you forgot, Eurovision can get a little…weird. But despite any techniques to catch the eye of voters, the songs are all still solid. With cameo appearances from real Eurovision artists including Netta (OUR QUEEN), Conchita Wurst, Jamala, Bilal Hassani, Anna Odobescu, and way more, it's no wonder the songs in Eurovision Song Contest: The Story of Fire Saga feel authentic to the real Eurovision song contest. They filmed it all on the 2019 Eurovision stage in Tel Aviv, though they never state what particular year it is in the film. Since the film's contest is set in Scotland, I think it's safe to say it's purposely removed itself from any real timeline – probably for the best. They even have a nod to 2006 Finnish winner Lordi!
In addition to all the familiar faces from past years, we get jokes galore that are a cheeky nod to the song contests past politics. Not spoiling anything, but there's a significant bit about there being absolutely no gay people in Russia. Not one person on the rainbow flag in the whole country. Of course, that's a nod to Russia's famous "anti-LGBTQ" laws and their protests against such a "gay" pageant. Russia, buddy, I got news for you: the song contest always has and will continue to be gay AF. I mean…did you forget your own entries from back in the day? Though, I think they're really just miffed that their neighboring country's performances are always better and gay-er than theirs could ever hope to be. Just look at Ukraine's Verka!
Politics aside, though, I think one of my favorite lines was a quip about the fact that the chosen Eurovision song needs to be in English. They even have Demi Lovato playing an Icelandic singer, and one of the reasons why they love her was that she speaks perfect English. Speaking of English, Pierce Brosnan plays Lars' father – an Icelandic man born and raised in a small town. Does he speak Icelandic in the film? Yes. Does Pierce Brosnan speak Icelandic? Not at all. Is it hilariously terrible? Mjög mikið já.
But that's all part of the charm of Eurovision Song Contest: The Story of Fire Saga; the characters are hilarious, the competition absurd, and the songs appropriately campy. All in all, it's a feel-good film that's funny, witty, slapstick, and adorably Icelandic. And with a PG-13 rating, it goes far enough into raunchy but doesn't suffer from the heavy-handed doses that other comedies do. Well done to Eurovision and Netflix on a thoroughly entertaining film. Either that or the elves just made me type all this. You should be nice to them because they totally exist. Now play Ja ja ding dong, please!