"Black Christmas" Remake "Slay Bells" Are Ringing [TRAILER]
Writer and director Sophia Takal (Always Shine, Green) is looking to deck the halls with blood this holiday season in Blumhouse's remake of 1974's Black Christmas. The second remake after the 2006 adaptation. The film follows a group of sorority sisters at Hawthorne College, who are being hunted one-by-one by a mysterious dark-cloaked killer during Christmas.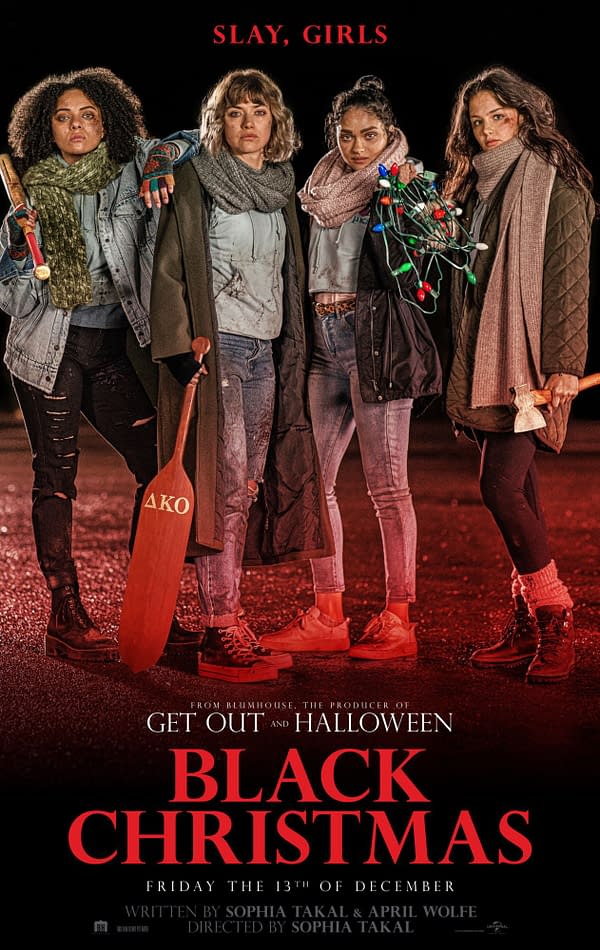 The trailer represents a shift from traditional horror in that the focus isn't as heavy on the mysterious nature of the killer(s) and how he/she uses stealth to terrorize his/her victims. It shows a glimpse how they band together to fight back. Personally, it feels like they revealed too much of the film sadly as with so many other titles of this era, because all horror films have the protagonists mount some form of resistance to overcome their antagonistic counterparts.
The statement made here is the would-be victims aren't going to play the role of damsels in any way. Men or women mounting a measurable counteroffensive in the trailer takes away the allure and the ominous power from the threat. It's this mysterious unknown force fueled by a cult. It almost feels like there's little left to the imagination. Speaking of which, the poster is misleading featuring the four armed protagonists, which doesn't suggest they're fighting back a killer, but rather they're going to go on a rampage, because it's Christmas. The only ones who know any proper context are those aware of the existence of the 1974 or 2006 films. They would probably have to watch any videos related to the film to go, "Oh."
Co-written by April Wolfe, the film stars Imogen Poots (Green Room), Cary Elwes (Saw, Stranger Things, Aleyse Shannon (Charmed), Brittany O'Grady (Star), Lily Donoghue (The Goldbergs, Jane the Virgin), and Caleb Eberhardt.
Black Christmas hits theaters December 13th. Check out the trailer.