Bradbury, Gaiman And JMS… For Something
Bradbury, Gaiman and JMS were the three names teased in an image during J Michael Straczynski's spotlight panel at San Diego Comic-Con,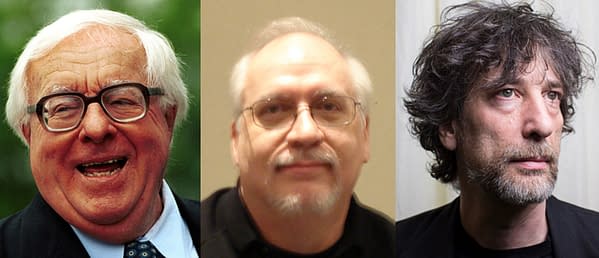 That would be Ray Bradbury, Neil Gaiman and J Michael Straczynski.
What do they have in common?
Neil Gaiman wrote this tribute to Bradbury in 2012.
Ray Bradbury at his best really was as good as we thought he was. He colonised Hallowe'en, just as the Silver Locusts colonised the red deserts and glass towers of Mars. He built it, as he built so much, and made it his.
Gaiman wrote for JMS's Babylon 5. JMS has written The Twilight Zone comic book based on the TV show that Ray Bradbury wrote a little for. JMS interviewed both Gaiman and Bradbury on the radio. Both Gaimn and JMS have won the Ray Bradbury Award. There will be more links I am sure.
And now, whatever it is, there's going to another one.