Brendon Connelly, for four years our muppet-loving Head Film Writer at Bleeding Cool, will be moving on from our ranks to pursue other opportunities, and we wish him all the best after his long service and thank him for his wit and insights along the way.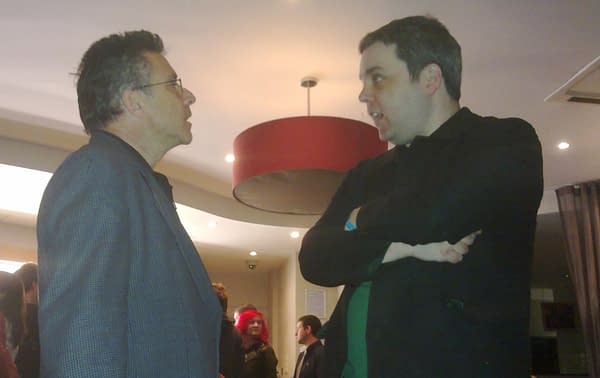 [Brendan McCarthy and Brendon Connelly]
Head Comics Writer and co-founder of Bleeding Cool Rich Johnston looks back over the last four years of Brendon's work with us:
Brendon Connelly is leaving Bleeding Cool. Which gave me a chance to think back over some of my favourite stories from him over the years. Scoops, features, interviews, I was always his biggest fan.

Brendon's very first story for Bleeding Cool was that Summer Glau was cast in Knights Of Badassdom.

Then there was the news that Brad Pitt had cast himself in World War Z, one of my favourite egotistic headlines (and I should know).

And out of the blue, Sylvester McCoy's casting in The Hobbit as Radagast the Brown was right here.

There was the time he got Rodrigo Cortes to tell us how to make a film in a box.

His deconstruction of the first four minutes of the film he loved and few did, Sucker Punch, as well as some very interesting questions to ask of it.

Time spent with Andrew Stanton, explaining how he was going to change filmmaking with repeatedly planned reshoots.

There was the time that Brendon explained just what this Frozen film that Disney were making actually was. Little did I know then how much it would affect my kids…

There were his adventures with Muppets, which I found repeatedly moving.

This particular Star Wars casting scoop ,which became the most read story on Bleeding Cool to date.

How surprised were you when Paul McGann said he might not have been the Doctor you were expecting? Depends if you'd read Brendon's article first.

If you wanted to know anything about Duncan Jones' Warcraft, there was no better place to read it than here.

There was this casting scoop from Avengers: Age Of Ultron that Kevin Feige then used to repeatedly to identify Bleeding Cool.

How about when Brendon blasted out stacks of news on Disney projects that we'd never heard of? We have now.

And telling us what the next Pirates Of The Caribbean would be all about, getting under the CGI skin of Frozen in a way no one else managed and telling us the truth behind the Muppets? Always Brendon. You'll have your own favourites.

He has been a good friend of mine for two decades since we first met, in a comic shop where he criticised my choice of purchases. He was working there…

I wish him the best of luck as he moves on. And look forward to finding out what he's doing next. But to me, he'll always be bleeding cool.
Naturally, it will be more than tough to follow in Brendon's footsteps, but if you would like to be part of the Bleeding Cool team writing about breaking news in film and TV as well as collectibles and other multi-media aspects of geek culture, we invite you to contact us for consideration.
If you are a press representative for studios, networks, or other related companies and would like to stay in touch with us here at Bleeding Cool about your announcements and news items, please feel free to reach out as well.
All inquiries can be sent to Bleeding Cool EIC, Hannah Means-Shannon, reached at: hannah@bleedingcool.com.
Enjoyed this article? Share it!