Brooklyn Debut For Shakespeare & Watson: Detectives Of Mystery Web Series That Aims To Offend
By Hannah Means-Shannon
I knew that I was going to be attending a surreal event on Sunday the 20th of April, but getting there turned out to be equally bizarre, stepping off the L train into Brooklyn from Manhattan, I found myself accidentally walking through the filming of a rap video in progress, featuring highly polished classic cars and motorcycles in an otherwise deserted street lined with warehouses and emblazoned with the occasional neon graffiti. I stumbled onward apologetically, turned a corner and found in the otherwise uninhabited district a sudden oasis: Brooklyn Fire Proof East Café and Bar. It had popped up like a kind of bohemian Narnia out of nowhere, but inside it was already packed with folks awaiting the first public screening of a new spoof web series, The Adventures of Shakespeare & Watson: Detectives of Mystery. The bar was flowing and the food was excellent, so it took awhile to get everyone into the event space ready to witness what we'd mainly heard about through rumors. Rumors and the remarkably broad circulation of collector's cards distributed at cons featuring main characters poised in inexplicable activities. By then, we wanted some answers. Writer/Producer/Actor Chris Miskiewicz and Director/Producer Christopher Piazza briefly introduced themselves before unveiling the six episodes of their project (of a planned 12) to a full audience, quite a few of whom had a hand in making the series or featured as extras, but most of whom would recognize familiar Brooklyn locations used for shooting.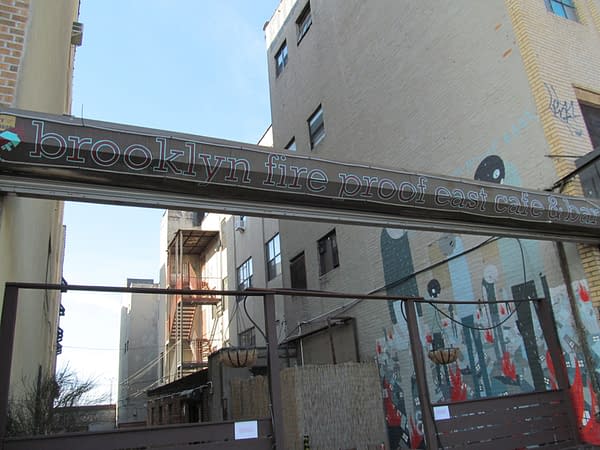 The premise of the series is that Sherlock Holmes (played by cartoonist Nick Abadzis) and Doctor Watson (played by writer/actor/comics guy Chris Miskiewicz) have discovered time travel, and due to a series of mishaps (the first of many), Watson gets stuck with a rather rambunctious William Shakespeare (played by experienced stage and TV actor David Blatt) in non other than our own time and the new pair must somehow reconstruct a time travel device, courtesy of Watson's knowledge and some detective work along the way, to return to their respective eras. But the premise doesn't fully explain the experience. The series is a spoof of the highest order, because the underlying assumption is that Shakespeare's and Watson's own moral fibre and tendencies are going to undermine their success in any venture.
As the project website claims, the narrative specializes in "revealing hidden personality traits of both historical and fictional characters". In short, Shakespeare becomes a budding, and then full-blown drug fiend while Watson (who may well recognize these traits from his more traditional companion) can't keep his eyes off the young men who cross his path. In the environment of 21st century indulgence, and more particularly in the Brooklyn where they find themselves, temptation seeks them out at every turn. So much for the analytics of the show. The mode of storytelling, grounded in impressively high production values (Producer/Editor Kat Green is a seasoned TV and Filmmaker), is riotous, often disorienting slapstick whose sheer unpredictability, paired with the short webisode format, makes it a strong contender for internet viewing.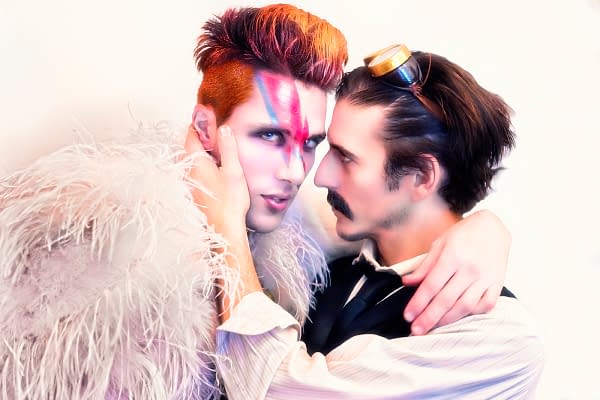 But it's not a show for the easily shocked, another selling point. Verbal profanity explodes in ever more creative combinations, nearly every scene suggests sex in some way, and Shakespeare, particularly, doses himself with every form of high he can get his hands on from dusting himself with cocaine to huffing paint, though he prefers, in the end, a crack pipe lodged in a skull just begging to be used in one of his soliloquies.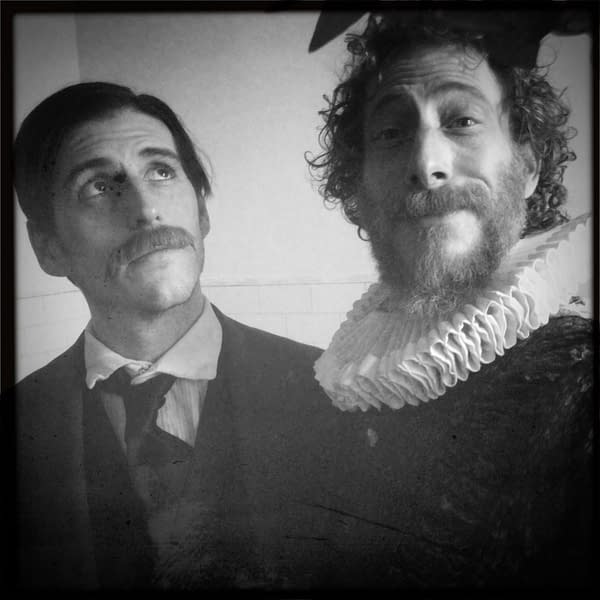 Like the rest of the audience, I found watching the first six episodes its own kind of drug trip into purposefully distorted perceptions, but some solid observational truths kept ringing through the chaotic rampage of the bumbling duo. It's not a bizarre premise, for one thing, that Shakespeare might find himself overwhelmed by vices of choice in a modern day Brooklyn, so much so that he might never pen a line again. We don't know a whole lot about Shakespeare's personal life, but it's a good guess he struggled with depression, particularly if he did indeed lose a son.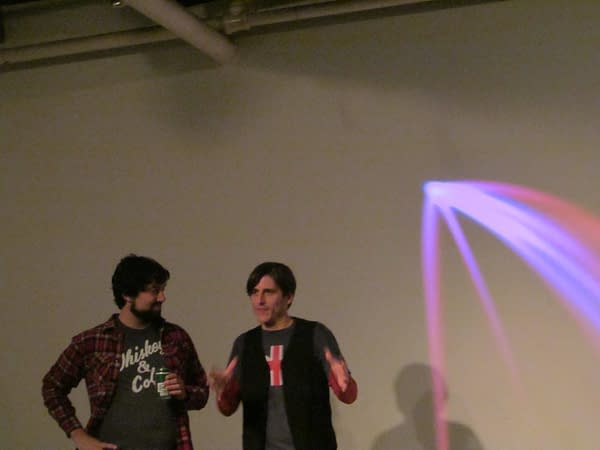 It's also an easily developed idea that Watson, finding himself in a more liberal era, might find every opportunity to acknowledge that he is gay, an idea that gains plenty of truck with Sherlock Holmes readers, who also speculate about Holmes' orientation despite the fact that both fictional characters have women in their lives in the stories. Lastly, these two characters, placed in a modern day Brooklyn would seem like babes in the wood. The cases they take on lead them into situations they can't handle, running from Russian gangsters in Coney Island, stumbling into party scenes that might as well be alien planets to them. But they find these adventures profoundly fascinating, and harmonious with their proclivities, as it happens.
Two things keep the series on an even keel after the initial appeal of the concept and the often scatological humor of the presentation: the further appearance of more time travellers they displace trying to fix their device, and a few, understated but haunting reminders that they both have bigger fish to fry in their own time-lines. Shakespeare must go on to write MacBeth, and Watson must return to real detective work someday, if they can only get their act together. The most amusing cameo time-traveller is David Bowie, snatched from time at the moment he's about to come onto the stage to play Ziggy Stardust, in full-spangled costume and makeup. He doesn't miss a beat and like Shakespeare and Watson, find the thrills of a new time appealing. A more sinister arrival, but one handled very easily in our more thuggish time, is Professor Moriarty (played by stand up comedian Paul Bosche), who finally, in this universe, at least, get some payback for his sinister nature in the form of Shakespeare and Watson sidekick, the truly frightening Cracky (played by punk rock drummer Ozzie Martinez).
The series is hoping for funding to complete its story-arc, but the effort that's gone into the first 6 episodes is obvious and praiseworthy. A large team of actors, crew, and creators have put together something with spark, dark humor and plenty of film homage that does nothing if not entertain, except, perhaps offend. That's part of the show's intention, as Miskiewicz explained after the screening, to a pretty deafening round of applause. It's trailer, which you can view on the show's promo website, gets high marks for kitsch pastiche of our own trend in genre obsessions on TV and even in comics right now, blending sci-fi with period mash-ups. In visual media, it's a genre free for all, maybe even a cage fight to see what exactly can keep an audience's attention span locked for more than a few seconds. The Adventures of Shakespeare & Watson makes no bones about that, grabbing attention and fascination from viewers in any way it can, which is a smart move for a fledgling project on the crowded internet.