'Captain Marvel' Actor Ben Mendelsohn on Playing a Skrull and the State of Super-Hero Movies
As Captain Marvel heads into its second week of box office domination, we can all settle down a bit and soak up some of the behind the scenes details. Ben Mendelsohn's Talos was a bit of a surprise to long-time Marvel fans, as the screenwriters decided to move the Skrulls from the "bad guy" column over to the "sympathetic refugee" column. It was a pretty daring plot twist, and one that a lot of us didn't see coming after decades of conditioning from the comic books.
Mendelsohn took some time to talk with Mike Ryan at Uproxx about his research into playing Talos:
It's all very Cold War and mustache twirly and all of that sort of business. And then you've got the next decade of development, of what the Skrull's become. So one of my first kind of conclusions and liberation points was, you know what? There's a Skrull, this is their first appearance. This is how they were first conceived. And they bear very little resemblance anymore to how they appeared when we first meet them. So you can throw it out. You can throw out the book of orthodoxy on it. Because it's not there, you know? It's not there.
You have to love a job that includes reading a ton of comics for research! Mendelsohn went on to talk about the state of comic-book inspired movies, and he's pretty happy with what he's been seeing:
The superhero movie is, really, the movie of our time. Like it, lump it, whatever! But, really, what's started to happen with it, in the last five or so years, is that the ball has really started to be moved forward significantly in terms of heart of storytelling. And it's kind of the joy of storytelling. I'll just pull a couple out of the hat. You've got Black Panther. You've got Ragnorok. You've got Logan. And Doctor Strange I thought was awesome. I mean, damn, they're getting really good.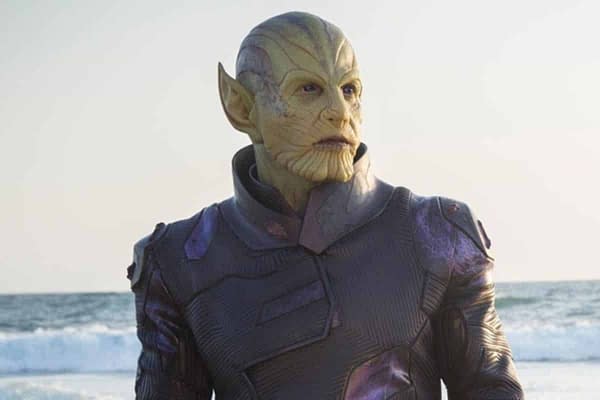 I have to agree whole-heartedly: there was a time when the best super-hero entertainment we had to look forward to was stuff like The Return of the Incredible Hulk. Just watch, you'll realize how good we have it right now:
Yes, whatever you do, make sure to give the Hulk some time to flex.
We really are experiencing an embarrassment of riches when it comes to super-hero inspired properties these days, and we're only a few weeks away from more excitement when The Avengers: Endgame hits theaters!
And if you count properties based off of comics in general, we're literally submerged in entertainment right now, with The Umbrella Academy, Deadly Class, and a whole slew of other shows popping up!
What a time to be a comics fan, right?