'Captain Marvel' TV Spot- Skrull-Growlin', Laser Tag, Glowing Carol
Every time we get a new Captain Marvel something- trailer, tv spot, etc.- we get even more excited for the 22nd Marvel Studios MCU film.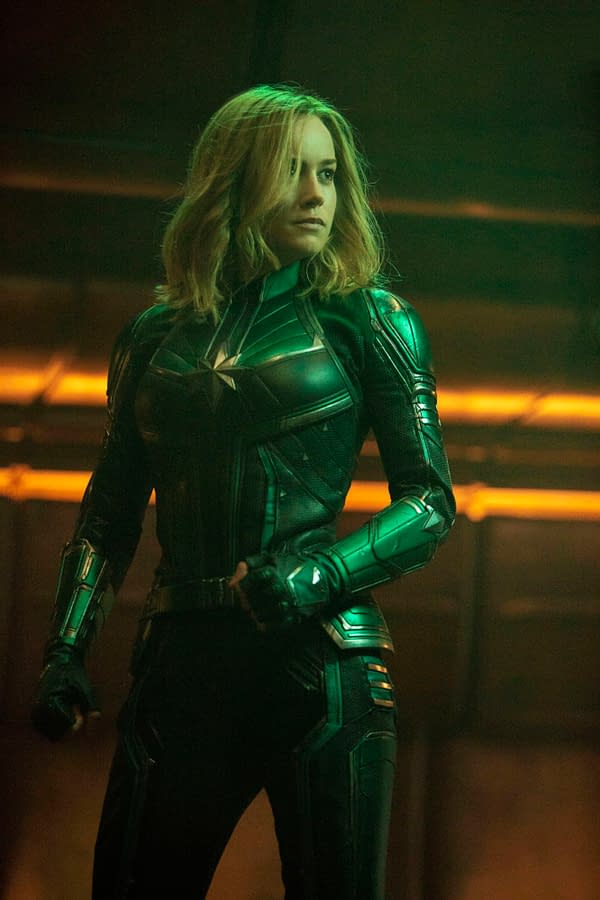 The one released this morning may be a personal favorite (even though it doesn't have any of the Nine Inch Nails shirt)- Nick Fury saying Captain Marvel looks like she's dressed for laster tag, Carol yelling back at a Skrull she's fighting, and "You do know you're glowing, right?"
You can check it out here:
Anna Boden (first female director for Marvel Studios, only took 21 films) and Ryan Fleck are directing from a script they wrote with Liz Flahive, Carly Mensch, Meg LeFauve, Nicole Perlman, and Geneva Robertson-Dworet.
Captain Marvel stars Oscar winner Brie Larson as Carol Danvers, Samuel L. Jackson as Nick Fury, Jude Law as the commander of Starforce (who may or may not have two names), Clark Gregg as Phil Coulson, Lee Pace returning as Ronan the Accuser, Djimon Hounsou as Korath the Pursuer, Gemma Chan as Minn-Erva, Ben Mendelsohn as Skull Commander Talos, Lashana Lynch as Maria Rambeau, Algenis Perez Soto, McKenna Grace, and Annette Bening in as-yet-undisclosed roles.
Captain Marvel is set to hit theaters on March 8th 2019 (International Women's Day), and tickets are on sale now.